Kodak cooks up 360-degree GoPro-style Action Cam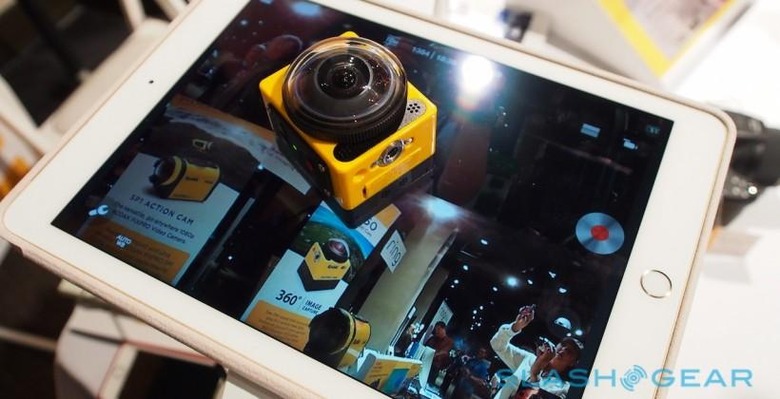 How much further can the GoPro-style action camera go? Kodak believes the next step forward is 360-degree recording, jewel of the new Pixpro SP360 Action Cam, which is topped with a dome lens allowing for high definition surround video. Paired with WiFi streaming to an iOS, Android, Windows, or Mac machine, the splashproof SP360 also comes optionally with a range of activity-themed accessories, like bike mounts or waterproof cases.
What makes the Pixpro SP360 Action Cam special is the absence of post-processing involved. Whereas other cameras may offer some degree of 360 recording, the footage usually needs to be stitched or otherwise finessed once it comes off the camera.
As we found when we went hands-on with the SP360, however, Kodak's system works out the box. Just like with a GoPro you can operate it independently as a standalone unit – there are a few easily-pressed buttons on the chunky body, along with a monochrome display for status updates – or remotely through the smartphone or tablet app.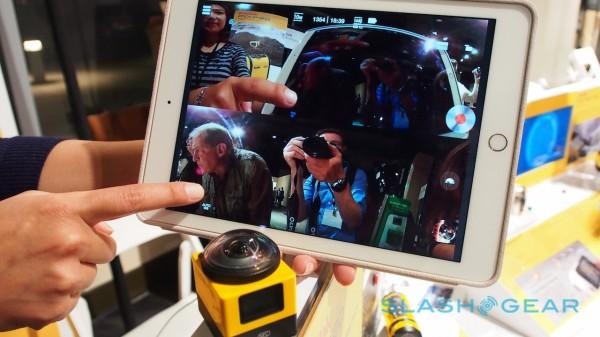 Content is stored to an internal microSDHC memory card (up to 32GB) and to whatever device is being streamed to. There are multiple ways of viewing live and recorded video, too: a standard, wide 360-degree panorama; a 212-degree front view; a split view that stacks two 180-degree panels one atop the other; a 214-degree dome view; and a ring or sphere for 360-degree viewing.
Each of the perspectives can be toggled through in the app, no matter what mode the SP360 Action Cam was set to in the first place, and many support manual adjustment like swiping through the frame to orient it to a different section of the scene.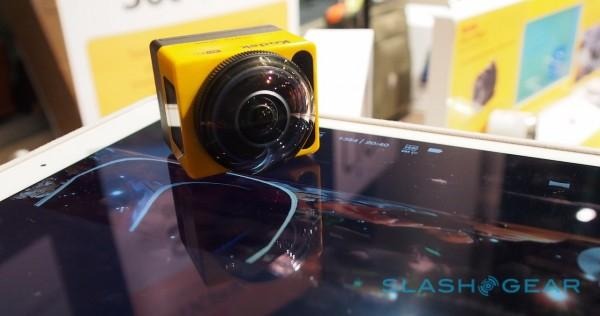 Still photos can be saved from the footage, meanwhile. The app itself proved straightforward to use, and there was only a small amount of latency between how the scene was moving and what happened on-screen. Of course, that's with minimal distance between camera and iPad.
In addition to manual control, there's the option of motion-triggering of recording. WiFi range is around 60 feet, and the casing is splashproof, can survive -10 degrees centigrade temperatures, 2m drops, and dust.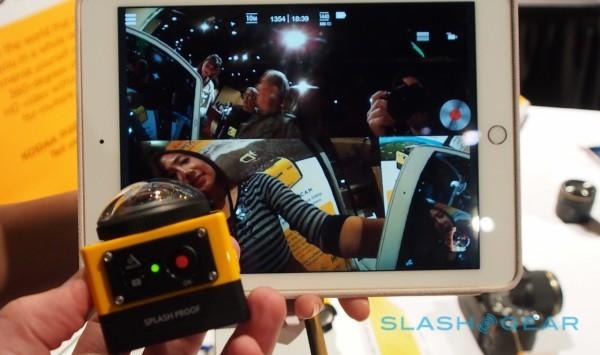 The battery pack is removable and interchangeable, and the whole camera tips the scales at 103g.
Kodak will offer the Pixpro SP360 Action Cam in three different packages, kicking off with a $349 entry-level "Explorer" set with basically just the camera itself. $349 also gets the "Aqua" bundle with a watersports focus, while $399 scores the Extreme Accessories bundle, with various mounts and a clear waterproof casing.