Kodak Announces PLAYSPORT Burton Edition Video Camera, Ready For The Slopes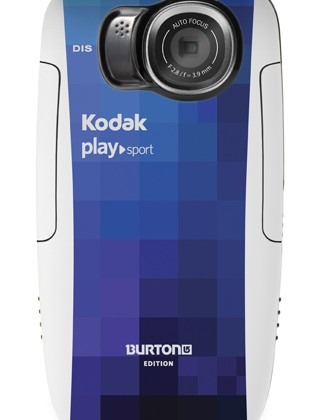 Kodak will be releasing a special Burton edition of their rugged PLAYSPORT Zx5 pocket video camera designed for people that love snow. It's touted as being touch enough to meet the demands of even the most dedicated snow boarders, capturing all the best moments of the day on the slopes in even the harshest winter weather conditions.
The Burton edition of the camera will have all the award-winning features of the original PLAYSPORT. It's waterproof and shockproof making it perfect for extreme conditions in the snow. The interface is easy to read and the buttons are large enough to operate with gloves on. The camera is capable of full 1080p HD video capture as well as 5-megapixel stills for 16:9 widescreen HD images.
Videos can even be captured at 60fps for fast action that's also perfect for slow motion playback. The Burton edition bundle comes with an HDMI cable, remote control, 4GB SDHC memory card, a tripod and carrying case. Priced at $199.95, the camera will be available this fall on Kodak.com and all major retailers.