Kobo Aura One eReader detailed as "best reading experience, period"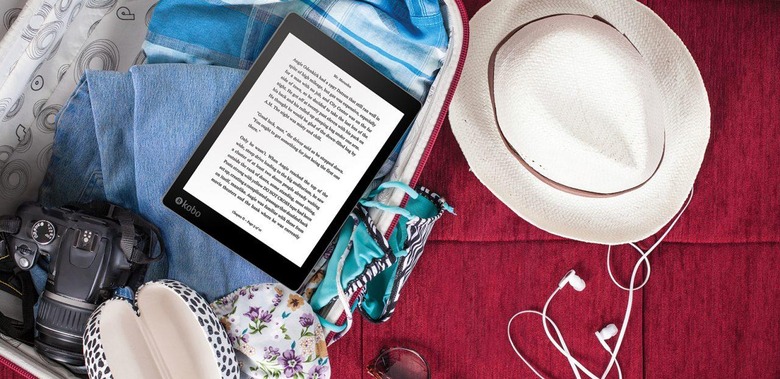 This week the folks at Kobo have announced the Kobo Aura One, a device they suggest is "crafted to deliver the absolute best reading experience, period." This device looks super simple from the outside – just a touch-friendly display up front with enough bezel to be able to comfortably hold on from any side and a textured backside with a single physical button (the power button.) This device does not look extravagant – but that's sort of the point.
Below you'll find the specifications for this eReading device, starting with a 7.8-inch display with ComfortLight Pro technology. This technology, they suggest, is able to reduce the amount of blue-light exposure the reader takes in, protecting their eyes for reading at the time most people read novels – at night.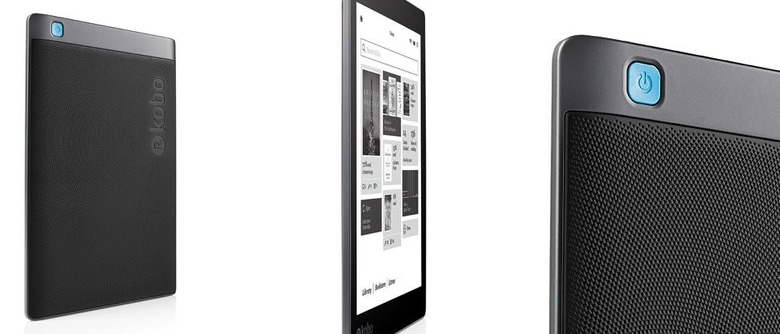 • Screen: 7.8" HD Carta E Ink touchscreen, 1872 x 1404 resolution 300 dpi
• Weight: 230 g
• Size: 195.1 x 138.5 x 6.9 mm
• Storage: 8 GB on-board memory, holds up to 6,000 eBooks
• Front-light: ComfortLight PRO
• Customizability: TypeGenius: 11 different fonts and over 50 font styles
Exclusive font weight and sharpness settings
• Supported formats: 14 file formats supported natively (EPUB, EPUB3, PDF, MOBI, JPEG, GIF, PNG, BMP, TIFF, TXT, HTML, RTF, CBZ, CBR)
Read eBooks borrowed from Public Library
• Connectivity: Wi Fi 802.11 b/g/n, Micro USB
• Battery Life: Up to 1 month
• Languages: English, French, German, Spanish, Dutch, Italian, Brazilian, Portuguese, Japanese, Turkish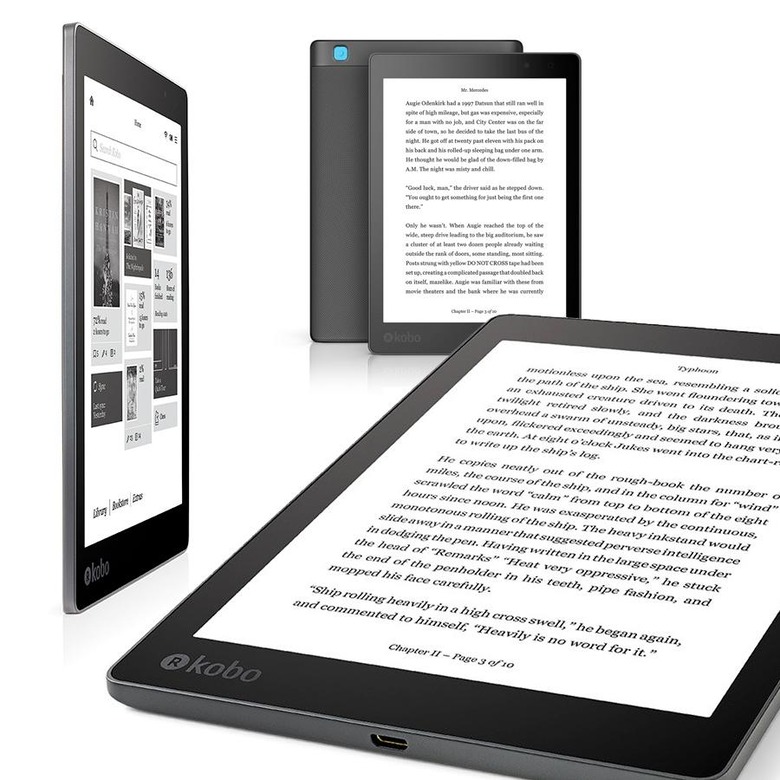 While it is a bit of a bummer that there's no way to expand internal storage space, this device isn't necessarily meant to be working with files that are all that large, anyway. All of the file formats listed as supported generally come in rather tiny file sizes, making 8GB onboard memory more than decent for a daily excursion.
We'll have to test that one-month battery life they mention in their official listing of specifications, too – that's quite a lifespan to live up to.
This device is also waterproof "from the inside out" with what Kobo calls HZO Protection. That meets requirements of an IPX8 rating, which means it's waterproof for up to 60 minutes in up to 2-meters of water.
NOTE: This device may look similar to the Kobo Aura, but it's bigger, its display is sharper, and it has twice as much internal storage space. Also this device has the color-changing ComfortLight Pro while the non-One version has plain-old ComfortLight. The Kobo Aura (Edition 2 for 2016, that is) is available on pre-order starting on August 30th, 2016 for $119 USD, while the Kobo Aura One will also be available for pre-order on that same date for $229.99 USD.