Kobo Arc 7, 7HD, and 10HD tablets unveiled with Tegra inside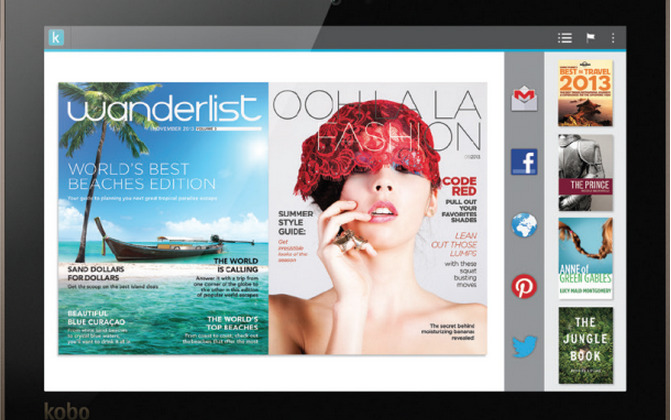 Kobo, maker of eReading devices, rolled out a limited edition Aura HD ereader earlier this year, and a couple months later had a different device appear in an FCC filing. As of today, the company's lineup has been expanded with three new tablets, two of which harbor Tegra processors, as well as an Aura e-ink reader which may have been the device we saw surface back in July.
First up are the new Kobo 7-inch tablets, with both the Arc 7 and a high-end Arc 7HD being announced. The non-HD model features a 1024 x 600 display and runs an MTK 8125 1.2GHz quad-core processor with 1GB of RAM. Then there's the Arch 7HD, which features a 1920 x 1200 HD resolution and runs an NVIDIA Tegra 3 1.7GHz quad-core processor. There's likewise 1GB of RAM, and a 1.3MP camera has been tossed into the mix.
The Kobo Arc 7HD is available in capacities of 16GB ($200) and 32GB ($250), while the Arc 7 is available in 8GB only for $150 USD.
The Kobo Arc 10HD is similar to the 7HD, with the most obvious difference being a 10-inch display instead of 7-inches. The resolution is higher at 2560 x 1600, and the hardware is also more powerful with a Tegra 4 1.8GHz quad-core processor and 2GB of RAM. The front of the device is equipped with a 1.3-megapixel HD camera, dual stereo speakers, and 802.11 wifi and Bluetooth 4.0. The unit is priced at $400 USD.
And rounding it all off is a new Kobo Aura e-ink ereader, this one offering a 6-inch display with front lighting and availability on both pink and black. The device uses a Pearl E Ink display with a dpi of 212, and features 4GB of internal storage with the ability to boost that by 32GB with a microSD card. There's also support for pinch-and-zoom with PDF and FLePub files. The Aura is up for pre-order at $150 USD.
SOURCE: PRNewswire