A confederation of mobile communications and technology companies has put together a website called Know My App. The site helps users figure out which mobile apps are responsible for eating up the lion's share of monthly megabytes on their data plans. The site was published by CTIA – The Wireless Association this week.
Know My App is organized into categories for browsing by music apps, video apps, social media apps, online mobile productivity apps and so on. Explore the categories for a bird's eye view of which apps are heavy or light on the data usage. Otherwise just use the search function to navigate directly to a specific app.
Each entry shows the app version number, manufacturer, testing methods, and the resulting average MB consumed per month. It shows how different data caps — 300 MB, 1 GB, 2 GB, and 4 GB– would fare with the app.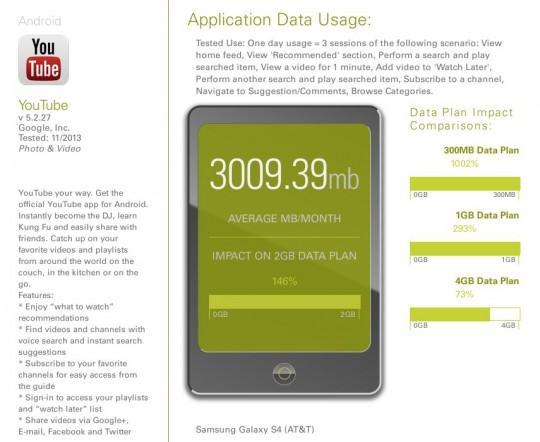 The app selection is small as yet, as there are hundreds of thousands of apps in existence. Know My App focuses on the top 50 paid and free apps in the App Store and Google Play. The site can therefore be read not just as a charitable (but selection-anemic) service for the valued customer, but also as an argument to consumers that perhaps coughing up for bigger data plans might be a good idea. CTIA is made up of virtually all of the major players in the consumer technology industries, as well as dozens upon dozens of the lesser known ones.
SOURCE: Android Community