Klipsch intros three affordable HD Theater surround speakers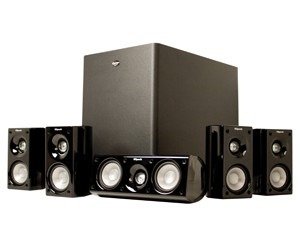 Klipsch Audio has announced three affordable 5.1 surround-sound speaker systems, designed primarily for high-end PC multimedia system to entry-level Home Theater entertainment. Unlike their much-advanced Home theater lineup, the new members are reasonably priced but still offering high performance feature such as its heritage horn technology with a MicroTractrix 0.75-inch aluminum dome tweeter; units are compact in size but big in sound with complement subwoofer and powerful digital hybrid/ digital class D amplifier.
The HD Theater 1000 features five identical speakers for main, surrounds and center channels. Each unit drives a dual 2.5-inch fiber composite woofers and a MicroTractrix Horn-loaded 0.75-inch aluminum dome tweeter. Low frequency range is taken care by an active subwoofer with an 10-inch fiber composite woofer and a digital hybrid amp. Next up is the mid-range HD Thearter 500 with 2.5-inch IMG drivers, smaller 8-inch down-firing subwoofer and a class D digital amp. The center channel is also different than 1000 series with a dual-woofer driver.
The smallest set, HD Theater 300, having the same drivers and features from 500 series, but a much-compact 6.5-inch subwoofer and a magnetically shielded center channel (to avoid image distortion for CRT-tube based monitors). It can be set up to add basic surrounds for your TV set, and is suitable for high-end PC entertainment as well.
Klipsch will launch the HD Theater 1000 in February, with the 500 and 300 coming in the next following month for $899, $599 and $399, respectively.