Kingston IronKey D300 And D300 Managed USB Drives Rock 256-Bit AES Encryption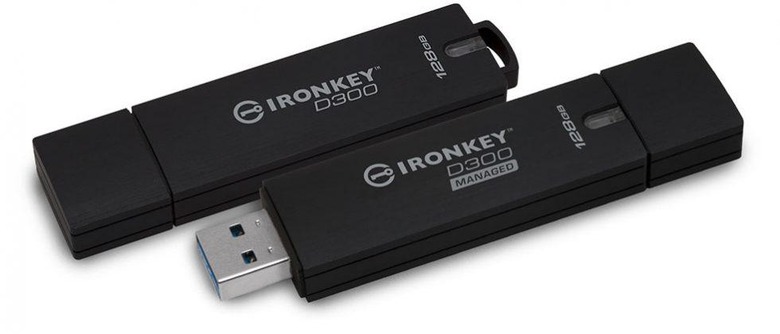 Kingston Digital has unveiled a pair of new flash drives that aim at the user who needs a drive that has lots of security to protect the data on it. The new flash drives are the IronKey D300 and D300 Managed encrypted USB flash drives. Both of these drives have advanced levels of encryption including FIPS 140-2 Level 3 certified and featuring 256-bit AES hardware encryption in XTS mode.
The outside of the drive is designed for abuse and is rugged with a zinc casing and it is waterproof to 4-feet deep. The internals are encased in an epoxy seal for physical security. The firmware for the D300 is digitally signed making it immune to malware like BadUSB and it enforces complex password protocol via IronKey EMS for the D300 Managed drives.
All encrypting and decrypting is done on the drive with nothing left on the host system. The drive is also designed to lock down and reformat after ten invalid access attempts. The D300 Managed drive requires IronKey EMS, which is a separate purchase. Both the D300 and D300 Managed are USB 3.0 drives and come in 4GB to 128GB capacities. Performance is up to 250MB/s read and 40MB/s write for some of the drives. Pricing is $65 to $338 for the D300 or D300 Managed depending on capacity. The drives are available for purchase now.
"We leveraged Kingston's history of delivering high-quality Flash memory products with IronKey's trusted reputation in the encrypted storage industry to create a strong, reliable USB Flash drive that will last for years to come," said Ken Campbell, Flash business manager, Kingston. "Our goal is to make IronKey D300 available to more organizations than ever before. Customers who need managed and/or non-managed encrypted drives will find IronKey D300 to be the most up-to-date, affordable and cost-effective solution to deploy in their workplace."
SOURCE: BusinessWire