Kingston DataTraveler Ultimate GT flash drive has a 2TB capacity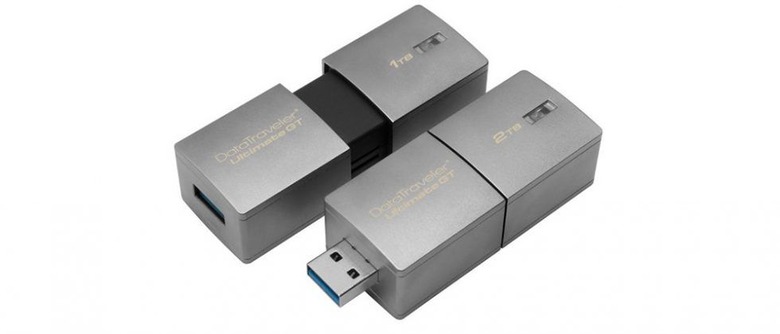 Kingston Digital has taken the wraps off a new flash drive with a crazy high capacity, relatively speaking: 2TB. That's despite its small 72mm x 26.9mm x 21mm size, making it an exceptionally small way to tote around a lot of data. According to Kingston, this capacity can accommodate up to 70 hours of 4K UHD-resolution videos.
The Kingston DataTraveler Ultimate Generation Terabyte (GT) flash drive is a very small way to tote around the data you'd ordinarily need a proper external hard drive to transport. Yes, such hard drives are now available in pretty small form factors themselves, but they're still considerably larger and less portable than this new flash drive.
The drive is made with a zinc-alloy metal casing, which makes it shock resistant in the event it is dropped. The model can also handle drastic temperatures spanning as low as -13F and as high as 140F (operating temperature), or -40F to 185F storage temperature.
The model is also available in a 1TB capacity, and features a USB 3.0 connector for fast data transfers. The mode has a five-year warranty, and is said to be compatible with all the major desktop operating systems, including macOS 10.9 and higher, Windows 7 and higher, Chrome OS, and Linux version 2.6 and higher. Price hasn't been revealed yet.