Kingston crams more performance into DataTraveler 410 USB Drive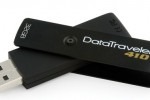 There are some things in life that we always want more of. You can never have enough money or enough speed for your Internet connection. It's also hard to argue with more storage space. We certainly all want more speed from our backup devices and Kingston has announced its DataTraveler 410 is now faster than ever.
The DataTraveler 410 line comes in various capacities including 4GB, 8GB, 16GB, and 32GB. All of the drives measure the same smallish 2.58" x 0.71" x 0.41" form factor. The drives also all have the same cap-free swivel design.
The improvement is that Kingston has upped the speed of the DataTraveler 410 series to 20MB/sec read and write. That means that large files will be moved to and from the drive faster than previously possible. The 410 also has a password-protected zone that keeps your private data private.