Kingston 8GB microSDHC memory card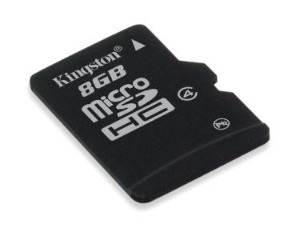 Storage manufacturer Kingston has announced a new microSDHC card, which packs 8GB and supports up to 4MB/sec transfers.  Intended for use with media files on cellphones and other mobile devices, it can also be used in full-sized SDHC slots courtesy of the card adaptor.
8GB is enough to store 1,500 MP3s, more than 4,000 images from a 5-megapixel cameraphone or up to eight hours of video.  Kingston include a lifetime warranty and 24/7 technical support, though there doesn't seem to be a huge amount you could get wrong with a memory card (plug it in, save stuff, the end).
It's available now, with a MRSP of $58.
Press Release
Kingston Technology Adds 8GB microSDHC Cards

to Growing Mobile Phone Memory Family

Larger Capacity Cards Offer Wireless Consumers

Handy Storage Options to Maximize Device

Performance, Manage Digital Content

Fountain Valley, CA — (July 14, 2008) — Kingston

Technology Company, Inc., the independent world

leader in memory products, today announced the

addition of 8GB microSD High-Capacity (SDHC(TM))

Flash memory cards to its mobile memory storage

line. Shipping immediately, the new 8GB microSDHC

cards offer greater storage options to the latest mobile

phones and digital devices in the smallest footprint

available.

"Consumers are demanding more from their mobile

phones, expecting them to double as music and portable

game players, instant cameras, email communicators,

browsers and navigators. Having enough storage

capacity, particularly in the form of memory cards,

keeps internal device memory free to deliver all this

multi-functionality," said Wendy Lecot, Flash card

business manager, Kingston(R). "Our 8GB microSDHC

cards are so roomy that mobile users can easily move

entire digital libraries from a PC to their mobile phones

– and beyond."

Kingston 8GB microSDHC cards can store more than

1,500 digital songs, more than 4,000 images from

a 5MP cameraphone, or up to eight hours of

video, greatly surpassing storage limits on

mobile phones without Flash memory card slots.

The microSDHC format is emerging as the

predominant mobile memory standard as more

handset manufacturers, including HTC, LG, Motorola,

Nokia, RIM, and Samsung, embrace it with compatible

mobile phones. Recent models tested with the new

Kingston 8GB microSDHC card include the BlackBerry

Pearl 8120; the LG evV2 (VX9100) and Voyager

(VX10000); as well as the Samsung BlackJack II

and Glyde (U940).

The new microSDHC 8GB card, Kingston part number

#: (SDC4/8GB) has a suggested price of $58.00

(MSRP U.S.). Although the microSDHC format is

identical in physical size to the original microSD card,

microSDHC is compatible with microSDHC host devices

only and not backward compatible with standard

microSD-enabled devices or readers.

Backed by a lifetime warranty and 24/7 technical

support, Kingston microSDHC Flash memory cards

are available through distributors, resellers, retailers,

e-tailers and online at www.shop.kingston.com.

microSDHC Features/Benefits

- Compliant: with the SD Association Specification,

Version 2.00

- Versatile: can be used as full-size SDHC or miniSDHC

card with appropriate adapter

- Compatible: with microSDHC-enabled devices/

readers only

- File Format: FAT 32

- Reliable: lifetime warranty

microSDHC Specifications

- Capacity: 8GB

- Dimensions: 0.43" x 0.59" x 0.039"

( 11mm x 15mm x 1mm)

- High-Speed Class Rating: Class 4: 4MB/sec.

minimum sustained data transfer rate

- Operating Temperature: -13°F to 185°F

(-25°C to 85°C)

- Storage Temperature: -40°F to 185°F

(-40°C to 85°C)

- Weight: 0.05 oz (1.4g)

For more detailed information on Kingston memory

products, please call 800-337-8410 or visit the

Kingston Web site at: www.kingston.com/flash.