Kingdom Hearts 3 Deluxe Edition detailed: three toys, art and more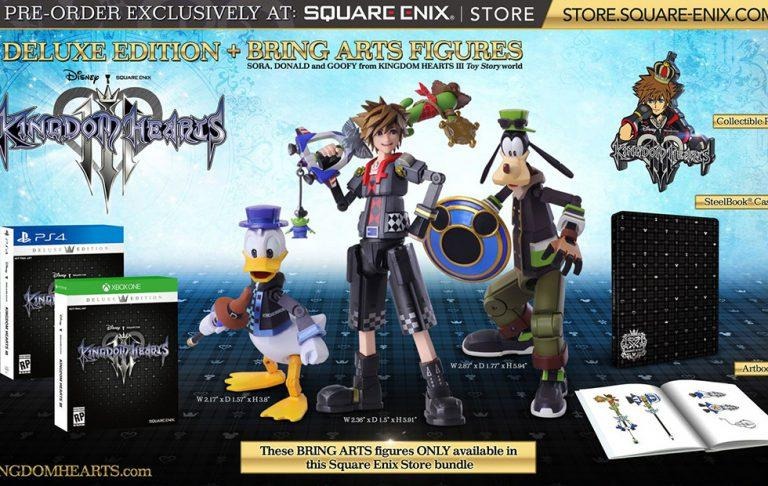 The Kingdom Hearts 3 Deluxe Edition Bundle has been detailed ahead of its launch, revealing the extra perks buyers will get. Chief among the offerings are three action figures, two of Goofy and Donald Duck, the third of character Sora. The cache is rounded out by a book of artwork, a collective pin, and several other items.
Square Enix announced Kingdom Hearts 3 during E3 2018, and now it has detailed its Deluxe Edition for the game. The kit costs $229.99 USD, which is a significant price for what amounts to the game and some treats to go with it. Diehard Kingdom Hearts fans may appreciate the items as collective gear.
In addition to the three action figures listed above, the kit includes artwork in a book, a collectible pin featuring Sora, a SteelBook case, and, of course, the physical game disc for either the PlayStation 4 or the Xbox One. The game packaging is labeled with the "Deluxe Edition" moniker and a crown.
The Deluxe Edition for Xbox One and PlayStation 4 are available to preorder on Square Enix's website now. Customers not interested in the Deluxe Edition Bundle can also order the Deluxe Edition minus the "bundle" part for $79.99 USD.
The non-bundle Deluxe Edition features the pin, book, and steel case, but not the three figures. There's also the Standard Edition, which is the cheapest of the bunch at $59.99 USD; this item only includes the game itself and can likewise be preordered now.
SOURCE: Square Enix