Kinetic Rain sculpture makes art in mid-air

Airport terminals can be soul-destroying places at the best of times, with little to distract you as wait for your connection, so we can only hope we end up killing time at Singapore Airport's Terminal 1 on our next trip. The refurbished terminal has a new "kinetic sculpture" called Kinetic Rain by ART+COM, consisting of 1,216 individually controlled copper droplets that can be moved to create ephemeral shapes, waves and more.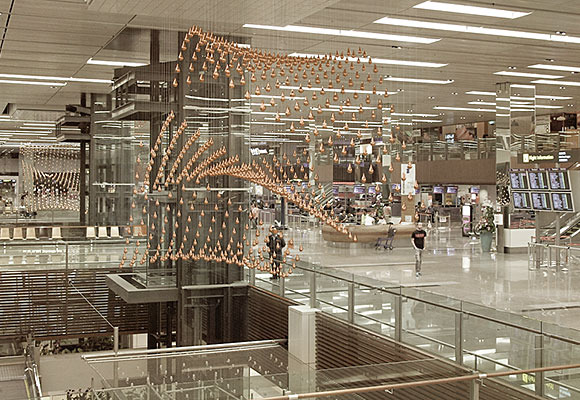 Each droplet is actually a lightweight aluminum shape clad in copper, and suspended from a narrow-gage steel wire connected to a precise motor. A computer controls two banks of 608 droplets, running through a 15 minute display of shimmering choreography, at times creating the outline of aircraft or other geometric forms.
Spotlights underneath, meanwhile, allow the droplets to sparkle as they move, as well as creating interesting interplays of shadow on the ceiling above. Part of what makes it so impressive is the cleanness and crispness of the movement: there's no bounce in the wires or even any apparent lateral movement, and your eyes quickly overlook any glimpses of the wires.
Kinetic Rain making-of video:
It's not the first time we've seen precision control over individual parts of a sculpture used in this way. Car company BMW has a similar installation at its BMW Museum in Munich, Germany, dating back to 2009, and also made by the team at ART+COM:
[via Core77]