Kinect Fusion headed to Kinect for Windows SDK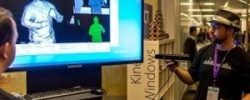 Kinect Fusion is a project that utilizes the Kinect to create three-dimensional models, and was showcased at Microsoft's BUILD 2012 last week. Per an announcement earlier today, the company will be implementing this tool into the Kinect for Windows SDK. No word on when exactly we can expect to see it, however.
Kinect Fusion works by using Kinect sensors to scan 3D objects and environments in real-time. When the sensors are passed in front of an object or environment, or when an object is moved in front of the scanners, the object is recreated in 3D. According to the announcement over on at MSDN, this allows for the capture of environmental or object information in a way that isn't viewable from any one perspective.
Kinect Fusion pieces together thousands of frames, and can render and update new models nearly instantly. Some of the proposed uses for the Kinect are in 3D printing, body scanning, gaming, and industrial design, with an industrial version of the Fusion sensor costing somewhere in the ballpark of $50,000. The Kinect Fusion can create models of entire rooms in addition to individual objects.
It might be a bit before we see the Kinect Fusion incorporated with Kinect for Windows, however. The SDK was updated last month, and brought with it a bunch of new features, including, according to Tech Crunch, the ability to access depth data beyond 13-feet, which is necessary for Fusion. A Kinect sensor for the SDK can be picked up for $249.
[via Tech Crunch]