Kinect Avatars To Help With Virtual Health Care In The Future?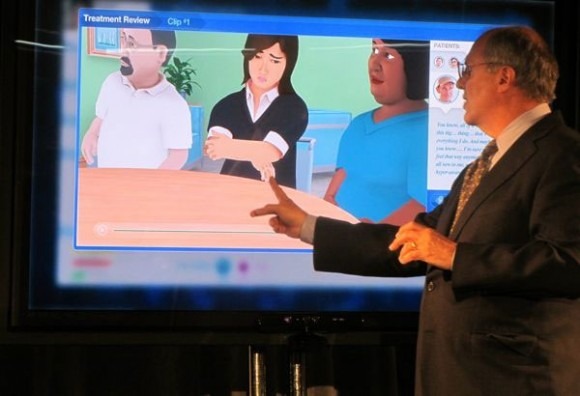 I think that here are a lot of uses for the Kinect system that are pretty cool. I like the idea of being able to interact with certain ads o the TV using the NUads service that was unveiled this week. I want to be able to program my DVR and get digital movie tickets and times using the service for instance. Microsoft also sees Kinect as a good option for remote health care as well. I am much more dubious of this than I am with Kinect for advertising.
Microsoft's idea was put forward in a demo that has a virtual, animated table with people that are talking about diabetes. You can see the lady in the middle in the photo above is not comfortable about something. It could be that she has to pee, or maybe she ate a whole box of Oreo's and feels guilty, who knows. The idea is that after the conference the leader of the discussion could see that the woman had some sort of issue and follow up.
Microsoft says that the Kinect system would allow the virtual avatar on the screen to interact with others using natural motion and animation of ht eyes, eyebrows, face and mouth. This would allow most of the human emotion to be portrayed on the screen. The concept is interesting, but I don't think this sort of remote healthcare is particularly appealing to most people today.
[via GeekWire]