Kindle gets 85% wireless battery boost & PDF reader update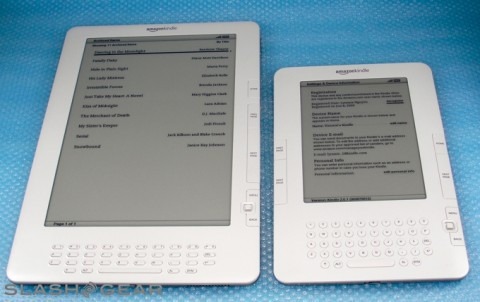 Amazon have announced a new firmware update for their Kindle ebook reader that can apparently boost battery life by up to 85-percent.  With wireless connectivity turned on, the Kindle now runs for up to seven days rather than the previous four-day battery life; however the non-wireless runtimes are unchanged, suggesting the firmware applies to the Kindle's modem.  The software also adds a native PDF reader to the ebook device.
The update is, Amazon claim, the culmination of six months of testing and tweaking, and they're giving themselves a big pat on the back for it too.  "Battery power management for portable wireless devices" they explain "is a complex technical area", so we should probably buy them all a drink or something.
The new firmware will be preloaded on all new Kindles, and delivered to existing "new" Kindle models via Whispernet; they haven't confirmed a timescale for when that update will go out.  Meanwhile, owners of "some" earlier Kindle models – Amazon don't specify which – will get the PDF reader as an update.  PDFs can then be copied over via a USB connection or delivered wirelessly by emailing them to the ebook reader; putting "Convert" in the subject line will trigger an automatic-conversion to Amazon's Kindle ebook format.
Press Release:
Amazon Extends Battery Life of Newest Kindle by 85 Percent and Adds Native PDF Reader

Kindle Now Lasts up to Seven Days on a Single Charge with Wireless on, up from Four Days, and Displays Native PDFs in Their Original Form

SEATTLE–(BUSINESS WIRE)–Nov. 24, 2009– Amazon.com, Inc. (NASDAQ: AMZN) today announced two new enhancements to the latest generation Kindle—85 percent more battery life and a native PDF reader. Kindle now has battery life of up to seven days even with wireless turned on, a significant improvement from the previous battery life of four days. Battery life with wireless turned off remains at the previous level of up to two weeks. Battery power management for portable wireless devices is a complex technical area, and the battery life improvement announced today is the result of a six month firmware improvement and testing program.

Amazon also announced today that the 6-inch Kindle now has a built-in native PDF reader that enables Kindle customers to read professional and personal documents in their original PDF format without conversion. Kindle is in stock and available for immediate shipment today at www.amazon.com/kindle.

"Kindle, already the #1 bestselling, most wished for, and most gifted product on all of Amazon.com, is now even better—with 85 percent more battery life and a built-in PDF reader," said Ian Freed, Vice President, Amazon Kindle. "These two significant enhancements are available now."

To read their personal or professional documents, Kindle customers simply email PDFs to their Kindle email address or move them over using a USB connection. Customers that prefer to have their PDF documents converted to the Kindle format simply type "Convert" in the subject of the e-mail when sending documents to their "@kindle.com" address.

Amazon also announced today that previous purchasers of the new Kindle will also receive the 85 percent battery life improvements with wireless on, and native PDF support via a firmware update automatically delivered via Whispernet wireless. Native PDF support will also be available for some earlier versions of Kindle via an automatic Whispernet wireless firmware update.