Kindle for Android gets Honeycomb refresh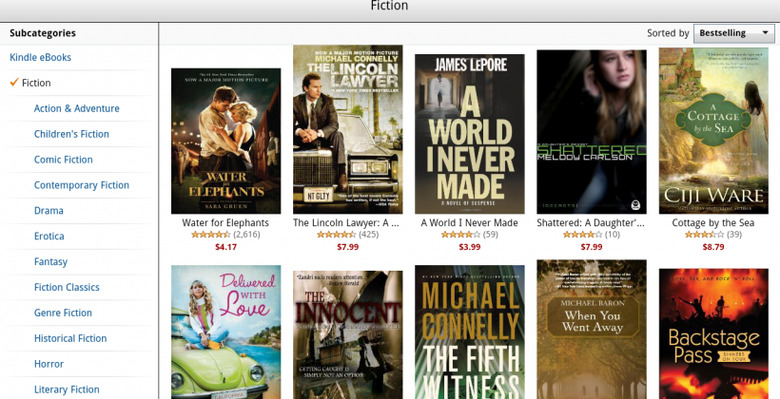 Amazon has released a new version of its Kindle app for Android-based devices, and the updated ereader has now been reworked to suit the bigger displays on Honeycomb tablets. Gone is the list view of ebooks on your device – or stored remotely in the cloud – and instead there's a bookshelf-style interface with all the titles laid out with cover art.
You still get Whispersync support, pulling your notes, highlights, annotations and progress through each ebook over to every device you're reading on. That means you can start reading on a Kindle and then pick up exactly where you left off on a Honeycomb slate.
The Kindle for Android app is still a free download from the Android Market. Later this year, US readers will be able to borrow ebooks for their Kindle from 10,000 libraries across the country.
Press Release:
Kindle for Android Now Tailored for Tablet Computers

Over 900,000 "Buy Once, Read Everywhere" Kindle Books available on the most popular platforms and devices, now including tablets running Android Honeycomb

SEATTLE, April 21, 2011 – (NASDAQ: AMZN) – Today Amazon announced an update to Kindle for Android that brings new features and adds support for tablet computers running Android's Honeycomb, including the Motorola Xoom. The latest version of Kindle for Android includes an integrated immersive shopping experience tailored for tablets, a new layout for newspapers and magazines designed for the unique interface of Honeycomb, and dozens of other new enhancements that take advantage of the larger screens. Like all Kindle apps, Kindle for Android includes Amazon's Whispersync technology, which saves and synchronizes a customer's books and bookmarks across their Kindle, iPad, iPod touch, iPhone, Mac, PC, BlackBerry, Windows Phone and Android-based phones and tablets. Customers can learn more about Kindle for Android at www.amazon.com/kindleforandroid and download the app from the Amazon Appstore for Android or Android Market.

"We've taken all the features customers love about Kindle for Android, and created a beautiful new user interface and a seamless shopping experience tailored to the look and feel of Honeycomb tablets," said Dorothy Nicholls, Director, Amazon Kindle. "As always, Kindle customers 'Buy Once, Read Everywhere,' so Kindle for Android is the perfect companion for the millions of customers who own a Kindle and a way for customers around the world to download and enjoy books on their Android phone or tablet even if they don't yet own a Kindle."

New features of Kindle for Android include:

· Seamless integrated shopping experience tailored for tablets gives you quick access to personalized recommendations, customer reviews, and more

· Refined newspaper and magazine layout including full color images

· Ability to pause, resume download at any time

· Enhanced word look-up capability (for Android-based phones and tablets) with built-in dictionary with over 250,000 entries and definitions.

The Kindle Store offers the largest selection of books people want to read, including 110 of 111 New York Times Bestsellers and New Releases from $9.99. Millions of older, out-of-copyright, pre-1923 books are also available to read. Kindle for Android offers customers many features that are unique to the Kindle and Kindle App experience, including:

"Buy Once, Read Everywhere" – sync and read your books, last page read, bookmarks, notes and highlights across Kindle devices and the most popular devices and platforms

Worry-Free Archive – Amazon automatically backs up your books and highlights online in your Kindle library where they can be re-downloaded wirelessly anytime on any Kindle device or app

Unparalleled shopping experience – Get all of the features you love about shopping on Amazon.com, including customer reviews, personalized recommendations, and instant 1-click buying using your Amazon account information

For over two years, Amazon has been building and introducing a wide selection of free "Buy Once, Read Everywhere" Kindle apps for iPad, iPod touch, iPhone, Mac, PC, BlackBerry, Windows Phone and Android-based devices that let customers read and sync their reading library, bookmarks, notes, and highlights with the device or platform of their choice. Learn more about Kindle apps at www.amazon.com/kindleapps. Customers can download Kindle for Android from the Amazon Appstore for Android or Android Market.