Kindle firmware 2.5.3 released; international browsing unlocked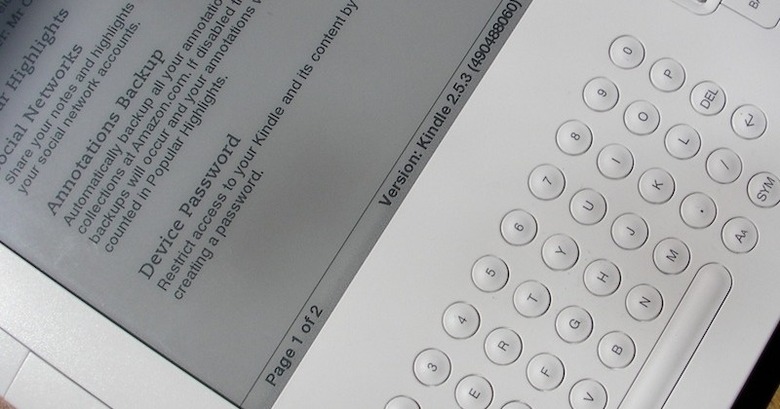 We may receive a commission on purchases made from links.
Amazon has announced that its 2.5.3 firmware for the Kindle ereader is now being pushed out wirelessly to all users.  The new software – which adds the ability to sort ebooks into "Collections" (aka folders), share notes and highlighted passages on Facebook and Twitter, and improves PDF handling among other things – should arrive on your Kindle "over the next few weeks"; however we've just checked our unit and it's already been updated.
If you're unwilling to wait, and the 2.5.3 update is nowhere in sight, Amazon allow you to manually download it and install it to your Kindle from amazon.com/kindlesoftwareupdates.  If you're content to wait, however, simply make sure your Kindle's 3G connection is turned on; the ereader itself can be in standby mode.
It's worth noting that the first-generation Kindle won't, apparently, be getting the new firmware.  However, we've also just tested the web browser on our Kindle in the UK – which previously was restricted to viewing Wikipedia – and it seems Amazon has unlocked the 3G connection so that you can now view any site.
- Collections: Organize your books and documents into one or more collections

- Facebook & Twitter Posts: Share your notes and highlighted book passages with friends on Facebook and Twitter directly from your Kindle

- Popular Highlights: See what the Kindle community thinks are the most interesting passages in the books you're reading

- PDF Pan and Zoom: Zoom into PDFs and pan around to easily view small print and detailed tables or graphics

- Password Protection: Password protect your Kindle when you're not using it

- More font sizes & Improved Clarity: Enjoy two new larger font sizes and sharper fonts for an even more comfortable reading experience
[Thanks Antony!]