Kindle app for iOS updated with X-Ray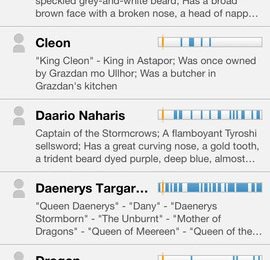 Users of Amazon's Kindle app for iOS will be pleased to hear that the company has updated the app to include one of the Kindle's latest new features called X-Ray. The feature enables users to explore the "bones of the book." Users can view more info about a book, such as ideas, fictional characters, historical figures, and places.
The X-Ray feature is powered by Wikipedia and Shelfari (Amazon's own community-powered encyclopedia), and it basically allows you to break a book down into different sections like people and terms, and then dig deeper into those individual sections to learn more about them. It's a really handy for those who are really wanting to fully understand the book they're reading.
The feature is only compatible with English titles at the moment, and not every single book supports X-Ray — it's mostly just the popular titles that come with it. However, X-Ray is available for a select number of textbooks, and it gives you "instant access to all the most important terms and concepts, with glossary definitions, links to relevant textbook pages, and related content from Wikipedia and YouTube."
You'll need to be running iOS 5 or later in order to update to the newest Kindle app version, but the update is free and it's available now in the iTunes App Store. We have to give it up for Amazon, though. Their business model is impeccable, and allowing anyone to access and purchase Amazon content, whether they have a Kindle tablet or not, is a good way to get as many customers as possible, no matter the platform.