Kick-Varibike has you pedal with arms instead of legs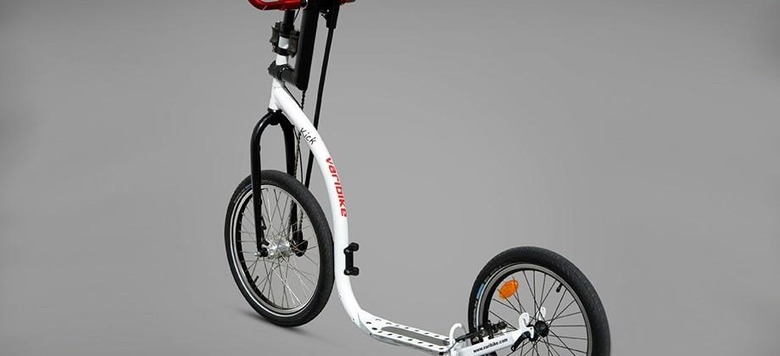 Kick-Varibike is a bicycle like no other — in fact, it is more akin to a giant scooter than anything else (a "kickbike"), but with the addition of pedals placed near the handle bars, which also makes it a hand bike. You can ride it like a scooter if that's your preference, pushing off the ground with your foot to propel it forward; or, you can pedal with your arms and build some upper body strength while traveling around. The model managed to catch the public eye at Eurobike 2015 recently.
There are some regular flat handle bars to hold on to and steer with if you don't want to use the hand pedals. If you do want to pedal (paddle?), there's a three-gear system in place that works in conjunction with the front wheels, as well as hand brakes. The front wheel has a disc brake, and the rear wheel has a V brake.
As you can see in the image (full size available in the gallery below), the chain runs from the handlebars vertically down to the front tire. There's a chain guard in place to keep your front leg from getting pinched. The arm cranks feature knob-like end pieces, and the bars themselves are CNC-machined.
Other features include Schwalbe BigApple tires, a CroMo frame, and a white paint job. The model isn't just a concept or a one-time thing: you can buy it now from the maker's website, but it won't come cheap. The Kick-Varibike is priced at 2599 Euro.
SOURCE: Gizmag