With the North American International Auto Show or NAIAS well on the way, car makers all over the globe are rolling out their latest and greatest, both for future models as well as ideas for the future. Kia, of course, is straddling both. The new Telluride concept might not ever become an actual production model itself, but it might serve as the blueprint, if not the inspiration, for Kia's future SUV's. Taking design cues from the Sorento crossover, the Telluride expands to accommodate not just one row of passengers but also some health-oriented technology inside the cabin.
Compared to the Sorento CUV, the Telluride concept is 4.4 inches taller, 4.7 inches wider, and 9.5 inches longer, ending up with a 70.9 inch tall x 79.1 inch wide x 196.9 inch long SUV painted with a Dark Pyrite green coating to accentuate the car's tall, muscular, almost menacing stance. That strong look is even more noticeable with the extra large signature nose grille on its face, flanked by recessed quad LED headlamps and with an aggressive polished metal skid plate, right below the bumper. Aggressiveness isn't in just the looks alone. Inside is a 3.5 liter GDI V6 engine paired with an electric motor, delivering a combined horsepower of 400, 270 hp from the V6 engine and 130 from the electric, with power routed all four wheels. It can achieve a fuel economy of 30 mpg on the highway.
The front doors and rear-hinged back doors open in opposite 90 degree directions, as if opening a portal to a spacious and luxurious getaway. Sure enough, that is exactly what awaits driver and passengers, with a cabin big enough to seat seven. The third row at the very back can be folded out when needed, while the middle row can be unfolded and laid out flat, almost like makeshift beds, when desired.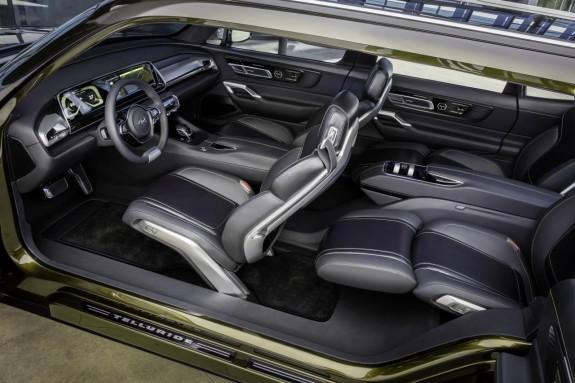 As a concept vehicle, the Telluride is, of course, laden with technology. At the back of each of the four main seats are smart sensors to capture the health status of the occupant. This information is then displayed on the interior door panel screen beside each seat. A Light Emitted Rejuvenation system, basically a wing-shaped LED panel, is mounted beneath the sunroof and displays therapeutic light for the passenger for fighting jet lag or relieving stress.
Like many concept cars, the Kia Telluride SUV may not become an actual retail model. However, Kia has made it known that it is interested in offering a premium, seven passenger SUV in the future and we might very well see pieces of the Telluride's DNA in that.