Kia Soul Review (2012)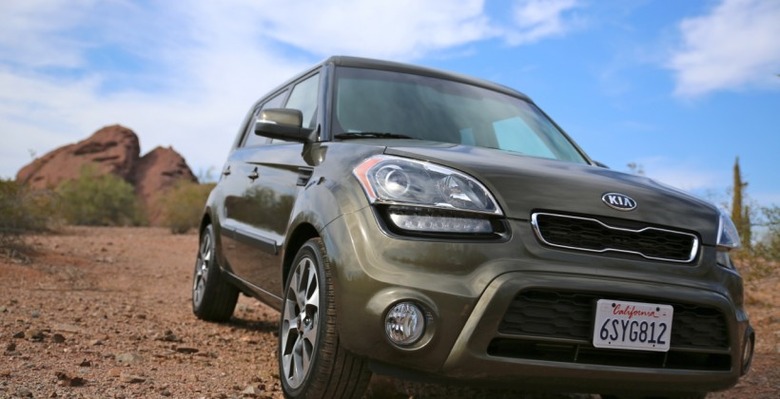 The segment of Small Cars With Unusual Looks is definitely niche in its numbers, but that hasn't stopped Kia's Soul from becoming one of the company's best-sellers. Eye-catching styling and a price that starts not only under $20,000 but in fact from $13,900 – despite offering five seats and lashings of kit – have added up to a no-brainer purchase for many, and now with the 2012 model year Kia hopes to get even more onboard its Soul train. Read on for the full SlashGear review.
Design
Kia first previewed the Soul's design as a concept back in 2006, and the production model arrived almost as stubby and box-like. It's a love-it-or-hate-it aesthetic, certainly, with over-scored arch lines, a front end that looks generally gaping with its huge light clusters, hefty lower air intake – body-colored in our "!" (or "Exclaim") spec model, black plastic in cheaper versions – and pinched grille. The rake of the A-pillar and the (fake) vents at the leading edge of the front doors are reminiscent of a Range Rover, and indeed the whole stance of the Soul screams "mini urban warrior" rather than bland city runabout.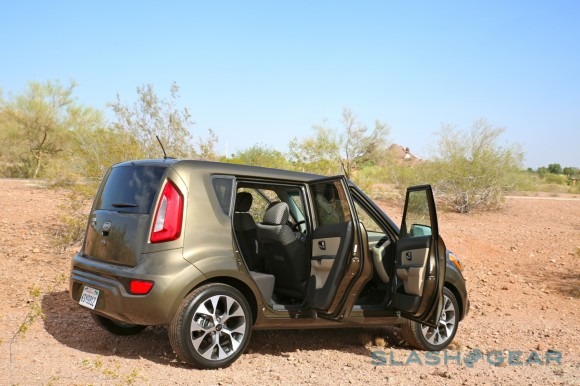 A rising shoulder-line and squared-off roof leave the Soul looking tapered in profile despite not sacrificing rear headroom, while at the back there's one big square hatch flanked by more oversized lights. The 18-inch alloys – standard on the Exclaim spec – are more eye-catching than the norm, and there are LED positioning lights, upgraded headlights with auto-off, sizable fog lamps and privacy glass.
Interior
What the Soul's interior lacks in pure quality it scrapes back with the sheer amount of kit you're getting for your money. Every model gets a Bluetooth stereo with USB and aux-in connections, air-con, power windows and door locks, remote keyless entry and a tilt/telescoping wheel with audio controls. The Exclaim steps things up to a Microsoft-powered "UVO Infotainment System" with a 7-inch touchscreen and voice control along with Sirius XM satellite radio (with three month bundled subscription), a separate amp, center speaker, subwoofer and gimmicky speaker-lights. There's cruise control on the midrange "+" Plus model and up, and all versions get 60/40 split folding rear seats.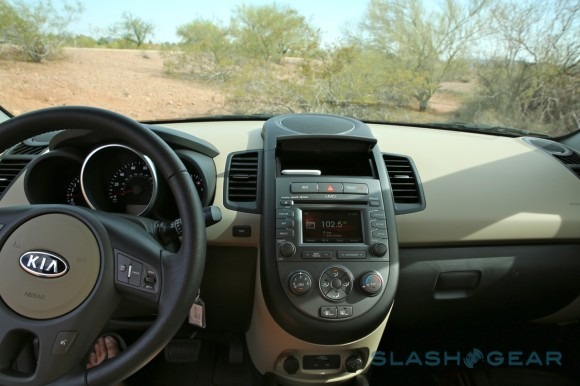 The dash plastics themselves aren't the acres of soft-touch you might get on more expensive cars – our spec'd out Soul still comes in at under $20,000 – but they're generally creak and rattle free. The seats are clad in fabric not leather – only the steering wheel and gearshift knob get hide – but the material is tough and should survive clambering kids. Drop the rear seats and there's a wide expanse of flat load area, helped by the high roofline; the only downside is the height of the rear bumper, which means there's a considerable lip to be negotiated.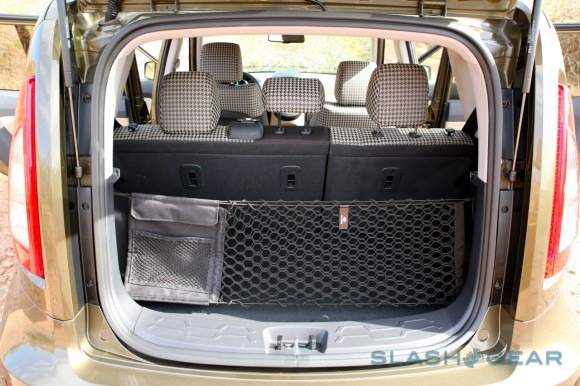 Safety features include 3-point belts for all five seats, dual front airbags and front seat-mounted side airbags, and full-length side curtain airbags. A tire pressure monitoring system flags up warnings on the dash if you have a low wheel, and there are LATCH (Lower Anchors and Tethers for Children) mounting points for car-seats and the like. Admirably all of those safety features are standard across the Soul line-up, not limited to the higher-spec variants.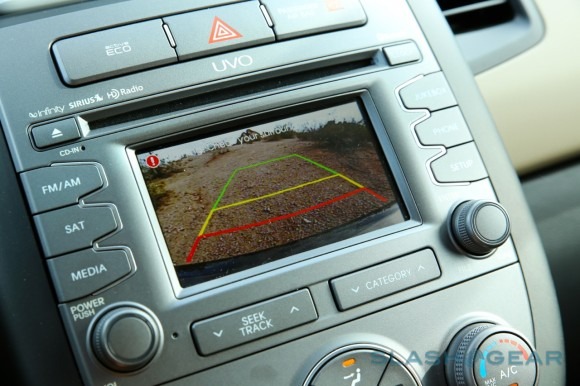 Engine and Performance
Kia has a choice of two powerplants for the Soul in the US, a 1.6L petrol and a 2.0L petrol. In Europe, there's also a diesel option. The new 1.6L – which musters 138HP at 6,300 RPM and 123 pounds-feet of torque at 4,850 RPM – is only in the Base-spec Soul, from $13,900 with a 6-speed manual transmission or $15,700 with the 6-speed auto.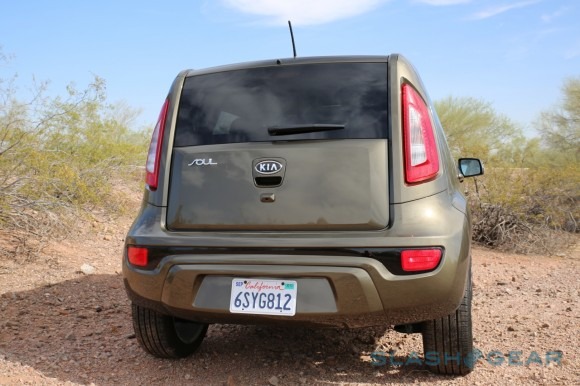 It's the new 2.0L – with 164HP at 6,500 RPM and 148 pounds-feet of torque at 4,800 RPM – which Kia expects to be the better seller, and the engine found in our Exclaim test model. It can only be had with the automatic transmission in Exclaim form, too; the mid-range Plus, priced at $16,300 for the manual and $17,300 for the auto, gets a choice of both gearboxes.
There's also an optional Eco Package, which adds in "Idle, Stop & Go" (ISG) or Kia's version of stop/start automatic engine control. While present on our test vehicle, Kia isn't actually offering ISG on current Soul orders after mediocre feedback about its performance. In short, it can be jerky to re-engage the engine and the times at which it actually operates are limited, such as not reactivating if you don't drive above 5mph after restarting; in fact, even Kia admitted that it made only a minor difference to the quoted fuel economy figures. After taking it for a spin, we were glad of the manual override button by the steering wheel to shut ISG off altogether.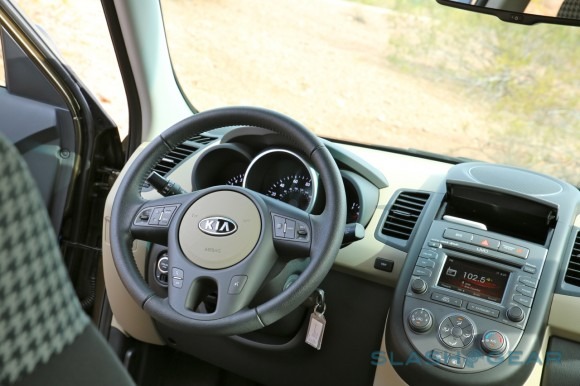 As for those economy numbers, Kia quotes 26mpg for city driving and 34 mpg for highway driving, or a total estimated annual fuel cost of $1,553 based on 15,000 miles in the 2.0L Soul. The 1.6L does very slightly better, with a quoted 27 mpg for the city and 35 for the highway, and there's no difference between manual and auto boxes.
Kia has thrown the acronym book at the Soul, and there's more than enough electronics to keep engine, stability and brakes in check. Anti-lock brakes (ABS) with brake-assist for emergency stops (BAS), Electronic Brake-Force Distribution (EBD), Electronic Stability Control (ESC), a Traction Control System (TCS) and Vehicle Stability Management (VSM) are joined by Hill-Start Assist Control (HAC), and like the airbags are standard across the spec range.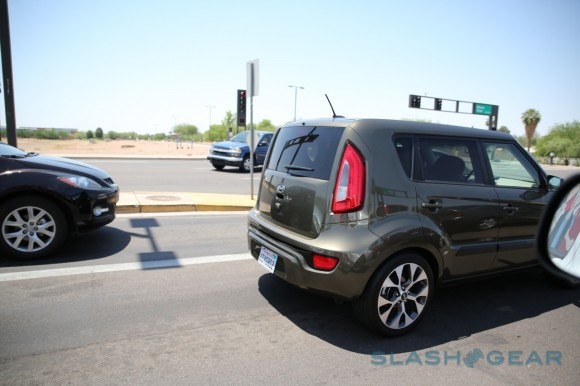 On the road, the Soul is surprisingly keen. The previous model was criticized for its sluggardly 4-speed auto box and somewhat breathless 1.6L engine, but the 2.0L plant and new 6-speed add up to a car with a surprising degree of zeal. Cornering is tight, thanks in part to the relatively short wheelbase, and the new auto is more immediate in how it delivers power to the road. The ride is firm but not too jumpy, though the electrically-assisted steering can be over-eager to re-center itself and feels twitchy at times.
Kia tells us it has added extra sound insulation into the cabin, and the net result is quieter travel than before. There's none of the buzziness many city cars suffer from, though we'd recommend against being taken in by the Soul's SUV-lite style and avoid off-road situations.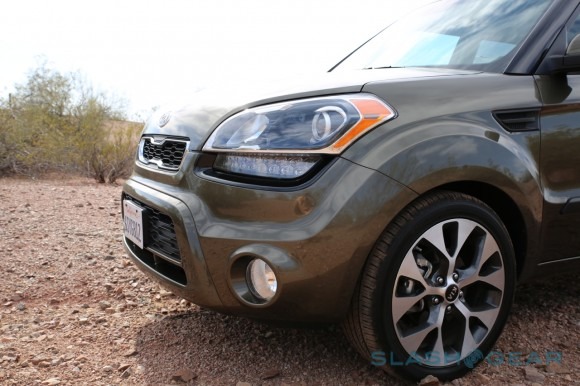 Wrap-Up
Kia deserves points from the outset for the balance of price, performance and specifications it has managed to strike in the 2012 Soul. Its predecessor was cheap but lacked some cheer, but the company has addressed the engine and transmission shortcomings, not skimped on safety, and squeezed in no shortage of entertainment tech without doing unpleasant things to the price. Our Soul ! test vehicle only climbs above $20,000 by virtue of the $750 destination fee.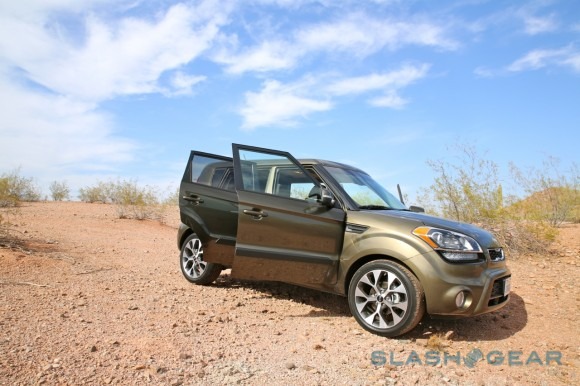 The distinctive aesthetics will turn some off, certainly, but put against natural competition the Nissan Cube and Scion xB they're equally likely to be a selling point for others. The audio system and capacious interior mean it's not a case of style over substance, too, running costs can be pared back to a minimum, and Kia's warranty runs to 5yrs basic coverage and double that for the powertrain. The outside of the 2012 Kia Soul may be comically wacky, but the ownership experience looks set to be seriously solid.