Kia Seltos X-Line Concepts roll into LA Auto Show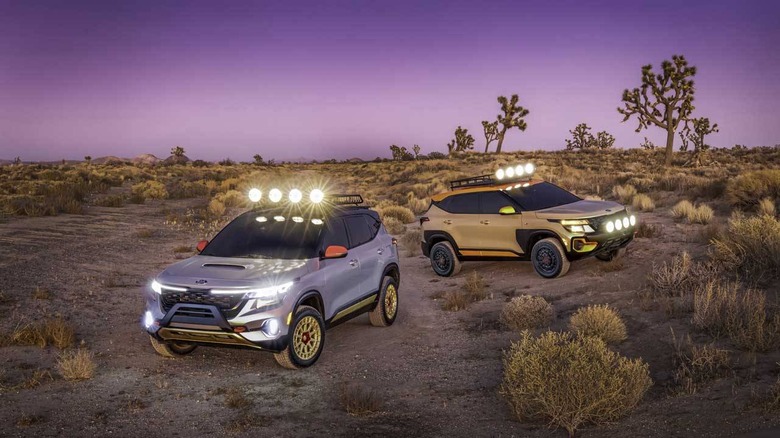 Kia has a pair of new concept vehicles that it has debuted at the LA Auto Show that include the Seltos X-Line concepts. One of the concept cars is the Seltos X-Line Trail Attack concept, and the other is the Seltos X-Line Urban concept. Both were designed at Kia Design Center America and built by Zero to 60 Designs of Corona, CA.
The concepts are based on the production Kia Seltos that was recently unveiled, and Kia says they are meant to convey the active lifestyles Seltos owners will embrace. The production Seltos is an addition to the Kia line that will go on sale in Q1 2020.
Kia says that it has no plans currently to produce either of the concepts. However, Kia points out that the GT Concept and Telluride Concept both eventually found their way to driveways as the Stinger sports sedan and Telluride SUV. The Trial Attack concept has two-tone custom paint meant to remind of a desert sunset. It has eight Hella auxiliary lights on the front bumper and roof, and has electric AWD and locking center diff.
Trail Attack rolls on a 2-inch lift kit giving the vehicle 9.2-inches of ground clearance, and it has knobby off-road tires. A front winch is hidden behind the valance to pull the vehicle out of trouble. The Seltos X-Line Urban concept is painted in gray meant to remind of the glass and steel used in skyscrapers.
The concept has a 2-inch lift to raise the seating position to make it easier to see and maneuver in traffic. It also features electronically controlled AWD and four auxiliary driving lights. A custom roof rack helps to carry all the stuff an apartment dweller has.