Kia Niro EV gets official at Busan Motor Show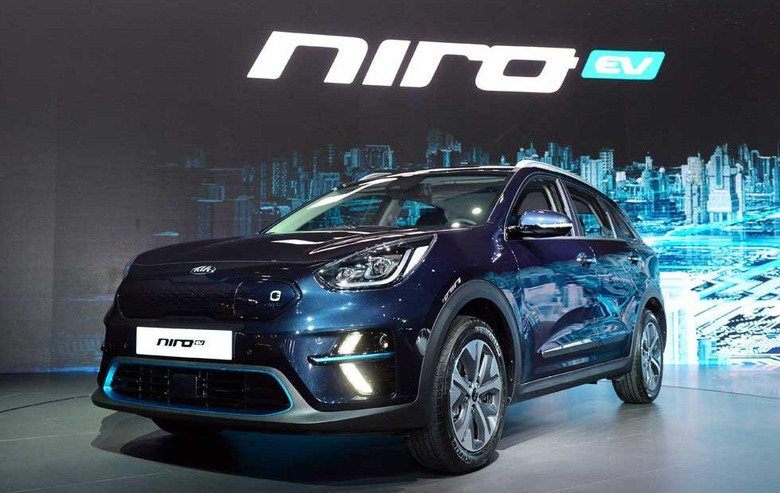 Kia has shared new images and details of its Niro EV at the Busan Motor Show in Korea. The all-electric Niro EV has a driving range of 236 miles and we got our first glimpse at the EV back in May. Kia says that the Niro EV is a crossover with an "eye-catching" design.
The ride has fewer compromises than other EVs according to Kia with the Niro offering driving range and lots of practicality. The Niro EV was designed at the Kia design centers in California and Namyang, Korea. The design is meant to be aerodynamic and sleek and it certainly achieves those goals and looks good doing it.
There are other models in the Niro range including a Niro Hybrid and a Niro Plug-in Hybrid, the EV has exclusive features those versions lack. The exclusives include the futuristic "tiger-nose" grille with an integrated charge port and debossed Niro logo. The EV also has redesigned air intakes and arrowhead-shaped LED daytime running lights combined with light blue trim to make it stand out.
Wheels on the EV are five-spoke 17-inch aluminum units with a diamond-cut two-tone finish. Brakes are regenerative to help keep the battery charged. The rear bumpers of the EV are reshaped and there are new LED rear lights.
The image of the interior in the gallery is the first look at the inside of the EV, which is different from other Niro cars. The dash has light blue trim and the center console is different to accommodate the shift-by-wire drive selector. This is the first dial-style shift knob for Kia. Niro EV also has advanced driver assistance systems like Forward Collision Warning with Forward Collision-Avoidance Assist, Smart Cruise Control with Intelligent Stop & Go, and Lane Following Assist.
SOURCE: Kia