Kia K5 fastback sedan debuts packing all-wheel-drive option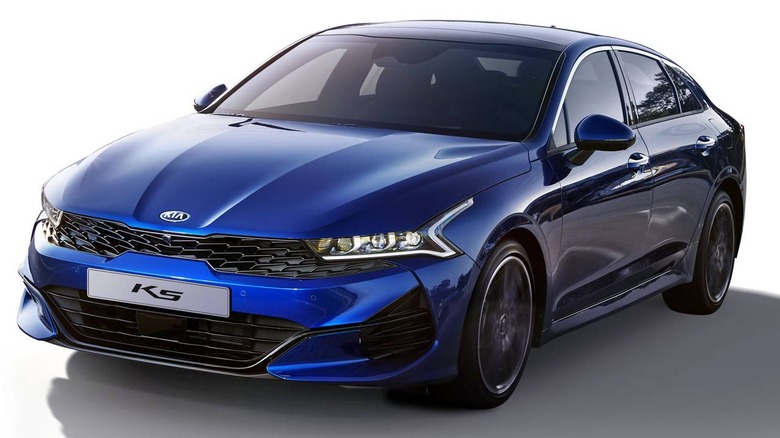 Kia has pulled the covers off a new vehicle called the Kia K5 fastback sedan. The ride showcases future Kia design direction with the new fastback silhouette. Kia notes that the car is a new fastback evolution of its global best-selling sedan.The K5 will be available for the fits time with an all-wheel-drive system in addition to the standard front-wheel drive tech. Power will come from a range of efficient Smartstream engines that are mated with the new 8-speed wet double-clutch transmission that debuts in the K5. The car will bring greater levels of cabin refinement, high-tech safety features, and revised chassis characteristics.
Kia promises a more relaxing, confidence-inspiring, and engaging to drive car. The exterior of the car is hailed as one of Kia's most sporty designs to date. It's designed in collaboration with Kia studios in North America, Europe, and Korea. The car has the Kia tiger nose and integrated LED headlamps.
The body narrows in the middle and was inspired by the "coke bottle" shape of the Stinger. Dimensions are 1,445mm high, 4,905 mm long, and 1,860 mm wide with a wheelbase of 2,850mm. Inside, the car has a range of tactile materials and will have an infotainment screen integrated into the dash. The infotainment display is physically attached to the instrument cluster in front of the driver. Some models offer an optional 12.3-inch digital instrument cluster.
The K5 will have an available mood lighting system, wireless phone charging, and 12-speaker Bose audio system. Depending on the market, there will be two-tone color schemes with cloth, synthetic leather, and leather options. North American buyers will get a Smartstream 1.6L T-GDi engine that makes 180ps and 265 Nm of torque. A K5 GT in North America will get a 2.5L T-GDi engine that produces 290 ps and 422 Nm torque. There will be hybrid options. This car was seen in November hinting at the future Optima design.