Kia brings 2018 Niro PHEV and 2019 Sorento 3-row to LA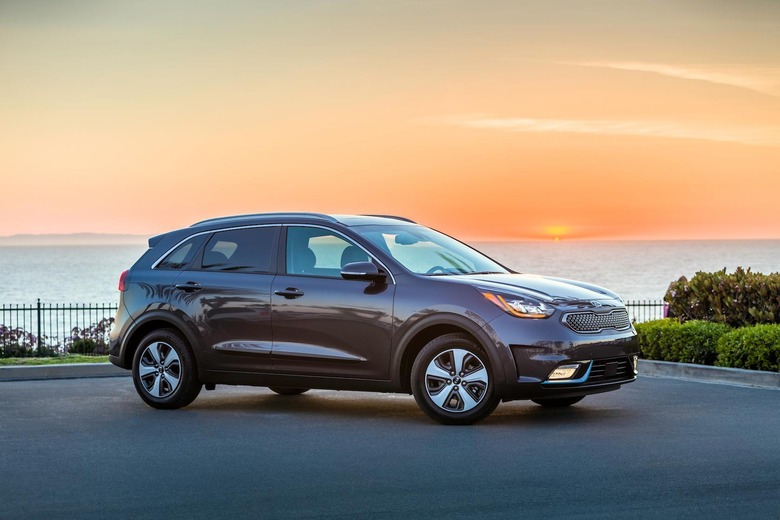 Kia clearly heard that SUVs and crossovers are dominating the LA Auto Show 2017, and brought along two new models – the 2018 Niro Plug-In Hybrid, and the 2019 Kia Sorento. The 2018 Niro PHEV is Kia's third plug-in model, promising 26 miles of emission-free electric range but with the added reassurance of a gas engine for longer trips and easier refueling. In fact, Kia claims that with gas and electric motors working together, the crossover can go around 560 miles before you'll need to stop.
That's courtesy of an impressive 46 mpg when on gas power alone, or 105 MPGe. The car is based on the existing Niro Hybrid, but adding the ability to charge it up from a wall outlet directly. The battery is an 8.9 kWh lithium-polymer pack, significantly larger than what's in the regular hybrid, packaged under the cargo floor and rear seat.
Kia claims that in doing so, it has kept the same cargo space as the Niro hybrid. It recharges in approximately 2.5 hours on a Level 2 240V charger, or "under 9 hours" on a Level 1, 120V domestic outlet.
The battery powers a 60 horsepower electric motor, with the same six-speed dual-clutch automatic transmission as in the normal Niro. There'll be four drive modes – EV, Hybrid, Eco, and Sport – with regular MPG ratings of 48 mpg in the city and 44 mpg on the highway. Total power is 139 HP and 195 lb-ft. of torque.
As you'd expect, there are some neat touches in the name of frugality. The Driver-Only Air Conditioning, for instance, cuts HVAC thirstiness by focusing solely on the person behind the wheel when they're alone in the car. Aluminum has been used for the hood, tailgate, and much of the suspension, to keep curb weight down. The UVO eco app can remotely show charge status, adjust charging schedules, and pre-condition the cabin from a phone.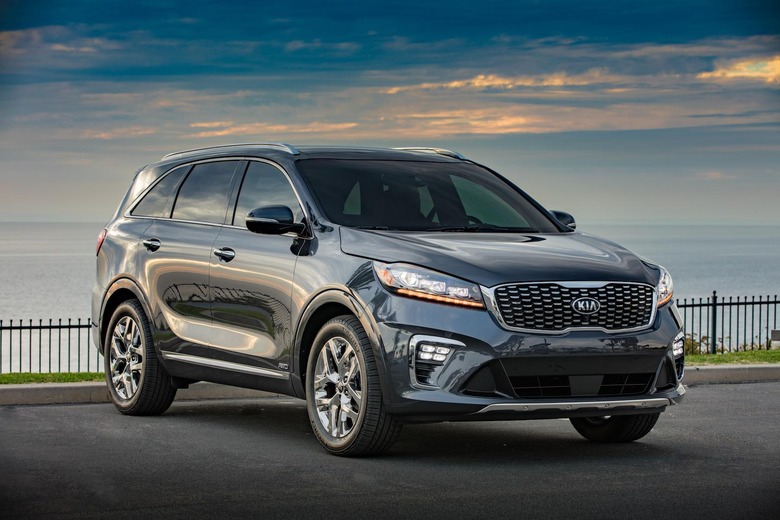 The 2019 Kia Sorento, meanwhile, updates the automaker's 3-row SUV. The styling has been polished, most notably with new front and rear fascias, while inside the cabin has been updated. 7-passenger, 3-row seating is now standard across all Sorento trims.
The 3.3-liter V6 engine option has now been paired with an 8-speed automatic transmission, though the 2.4-liter inline-four is the standard-fit engine. It's linked to a 6-speed automatic. The 2.0-liter turbo four has been retired, but Kia says it'll eventually be replaced by a new diesel engine that's currently under development.
Various active safety and driver assistance tech – including adaptive cruise control and lane-keeping assistance – is now standard on Sorento EX. AWD is an option, while the old driver-controlled drive mode system has been replaced with a system that can also switch between Eco, Sport, and Smart automatically. Maximum towing capacity remains at 5,000 pounds with AWD.
The 2018 Kia Niro Plug-In Hybrid will arrive in dealerships by the end of 2017, while Kia is yet to confirm an on-sale date for the 2018 Sorento. Pricing for both models will be confirmed closer to launch.