Kia announces pricing on three-row 2019 Sorento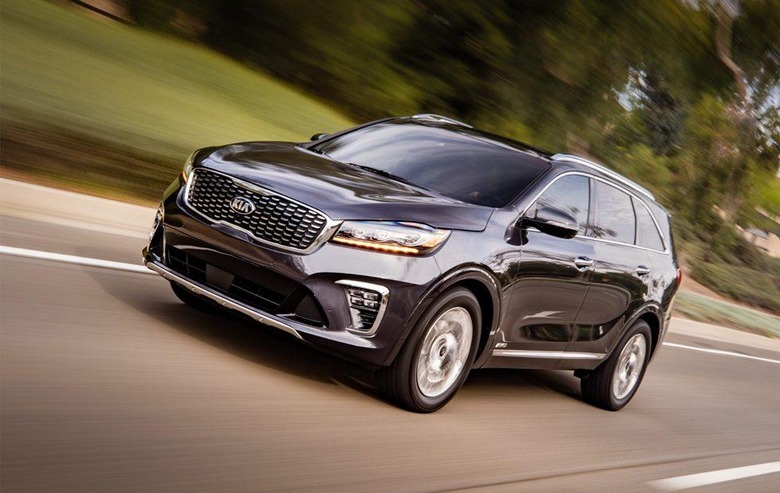 Kia has announced the official pricing for the 2019 Sorento SUV. The vehicle will come in five trim levels including L, LX, EX, SX, and SX-Limited. The base price for the FWD L is set at $25,990. The 2019 Sorento is refreshed with new front and rear fascias and seven-passenger, three-row seating is standard on all trims this year.
Buyers can opt for optional AWD on all but the L trim. Other new tech is available for 2019 including a Driver Attention Warning, Lane Keeping Assist, and a Harman Kardon surround sound system. The Sorento is available with a 3.3L V6 paired with a Kia built 8-speed automatic transmission.
The standard engine is a 2.4L inline four GDI for the base L. That L model also has a new 7-inch touchscreen audio head unit and a revised 6-speed automatic transmission. Moving up to the LX FWD sees starting price grow to $27,490 with the AWD unit selling for $29,290.
Sorento LX with a V6 starts at $31,290 for the FWD and $33,090 for the AWD flavor. A FWD Sorento EX starts at $35,590 in FWD or $37,390 in AWD. That version includes the driver safety systems, navigation, and the upgraded sound system.
Sorento SX starts at $39,990 for FWD and $41,790 for AWD and has nav, optional LED headlights, and lots more. The top-of-the-line Sorento SX-Limited starts at $44,690 in FWD and $46,490 in AWD and has standard LED headlights and fog lights.
SOURCE: Kia