Keyspan USB 2.0 Server reviewed

Networking access to a USB device can be tricky, not really, its actually pretty easy, but it deeply saddens me to have to leave a certain computer on all the time just to have constant access to the USB resource that's plugged into it. Keyspan's USB 2.0 server solves that problem, and quite simply too.
You connect the little server device to an Ethernet cable, and then connect it to the rest of your LAN via a router, switch, or hub (who still uses hubs?) and then you install the software which consists of a startup item, a framework, and then a utility that helps you setup and connect the USB devices you plug into the server. Other than connecting it to your network and setting up the software, all you have to do is plug in your choice of up to 2 USB devices.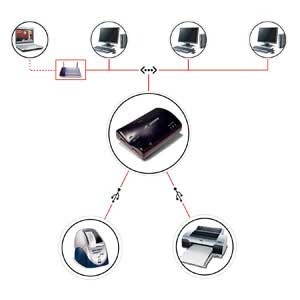 At $129.99, it might be a little pricey for home users, but if you have a small business of just a small office full of computers, and you need to share a printer, this might be an easier solution than dedicating server resources to it, of course I doubt you get to maintain the prioritization capabilities of a server, but if you just have a few people in the office, prioritization can't be that big of a deal. Macnn liked it, so much so they gave it a 4.5 out of 5 stars, they said that they only had two times within the 60 day trial period that the device gave them issues, and even then, a simple power cycle of the USB server fixed everything.
Review: keyspan usb 2.0 server [via macnn]