Keurig teams with Campbell's to offer soup in a pod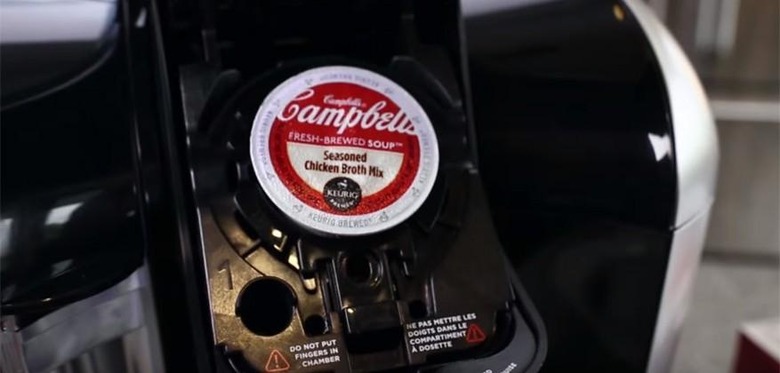 The reasons to dislike Keurigs are numerous, but for many people, the maker simply offers a fast and mess-free way to make a cup of coffee in the morning. If, on your slower mornings, you've ever popped a K-cup in place, only to wonder how a similar contraption would work with soup, you'll soon have your answer. Keurig has teamed with canned soup company Campbell's to offer soup in a pod, potentially making lunch as quick as breakfast.
Keurig announced the new soup pods on Wednesday, saying that it has launched the new Campbell's Fresh-Brewed Soup, which, of course, has been done in conjunction with the Campbell Soup Company. Never mind that brewed soup doesn't sound appealing; the pods are available now, and work in all of Keurig's Hot brewers compatible with K-Cup pods.
In case you've somehow gone this long without learning to use a Keurig, Campbell's dropped the video you see above with three-step instructions. The noodles, of course, are not in the K-Cup — those come in a separate packet, which you open and pour into your coffee mug. Next is the pod itself, which has the flavorings. Push the pod into the brewer, close the lid, and push the button. Boom, soup.
The soup pods are available now, but as with the K-Cup coffee pods, it isn't the most financially sensible way you could get your soup — an 8-pack of soup pods/packets will run $11.99 USD, which works out to about $1.50 for a mug's worth (70 cals) of brewed broth and noodles. If that sounds appealing, you can get the soup pods here.
SOURCE: BusinessWire