Kessler adapter turns power tool battery into USB power bank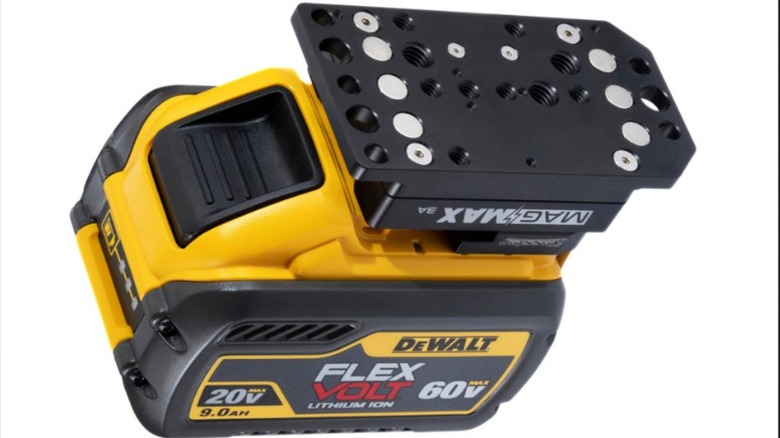 A photography equipment company called Kessler has introduced a peculiar adapter designed to turn DeWalt power tool batteries into portable power banks for USB devices and select camera gear. The adapter works with two commonly available power tool batteries, the kind you'd use to power a drill or impact driver. The upside to this unusual device is the fact that you can buy these batteries in hardware stores across the nation.
Power banks are, of course, the portable batteries that can be carried around to recharge a phone, headphones, or even laptops, when away from power outlets. These batteries are sold by a variety of companies and come in many forms, but the key part is that you must order them from certain retailers typically online.
Power tool batteries, on the other hand, are readily available at just about any home improvement or hardware store in the US. Kessler's newly introduced Mag Max 3A is designed to work with these batteries, transforming them into portable power banks with a 5A USB port for charging tablets and smartphones, as well as more niche ports for things like portable LED lighting.
Someone who owns one of these adapters, which connect directly to the battery, could walk into the average hardware store and buy a new power tool battery when they need it. These batteries can supply considerable amounts of energy, particularly the supported DeWalt 20V Max, at a lower cost than what you'd likely pay for a dedicated and specially created power bank.
The adapter is also compatible with the DeWalt 20/60V Flex Volt batteries, giving buyers different options to meet their needs. In addition to the USB and D-Tap lighting connectors, the adapter features a 14.4V 3A Lemo 2 pin 5.5mm female connector. The adapter is ideal for vloggers and other people who regularly shoot images or record video while out away from power outlets.
The Mag Max adapter costs $200, and both of the supported battery models are available at less than $200 with prices varying by retailer.