Kensington PowerBack iPad case adds 5hrs extra runtime plus kickstand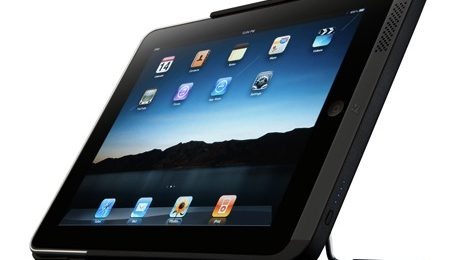 We can't say we've ever thought the iPad fell short when it comes to battery life, but Kensington obviously aren't content with its 10+ hours of runtime.  The new Kensington PowerBack Battery Case with Kickstand and Dock is basically a mophie juice pack for the Apple slate, combining a battery good for an extra 5hrs, edge-protection and a useful three-position stand that will work in both portrait and landscape orientations.
Charging the 4,400 mAh battery is done via microUSB port, which also works to recharge the iPad itself and sync it with iTunes, so you can finally leave Apple's proprietary cable at home.  An LED charge indicator, soft-touch case and "speaker deflectors" – which redirect the sound from the iPad's speaker on the bottom edge, so that it's funnelled out the front instead – round out the package.  It's up for preorder now, priced at $129.99.
Press Release:
Kensington® Announces New iPad Accessories to Deliver Continuous Power and Protection Everywhere You Go, Anyplace You Stay

Smart Made Simple™ Accessories Provide iPad Enthusiasts with the Power to Stay Productive Longer, In the Car or On-the-Go

Redwood Shores, Calif. – September 13, 2010 – Kensington Computer Products Group, a worldwide leader in delivering smart made simple™ computing and smartphone accessories, today introduced three new iPad accessories to help boost productivity for users of the tablet computer on-the-go or in the car. Kensington's connectivity enhancers are designed to be the breakthrough iPad accessories for users in need of extra versatility and best performance everywhere they go, anyplace they stay. The clever new products are a natural extension of Kensington's celebrated line of smart made simple computing and smartphone accessories, now offering power and protection to bring unlimited use to the iPad.

Kensington's PowerBack™ Battery Case with Kickstand and Dock is an innovative, all-in-one design that integrates battery charging, protective casing, three-position kickstand and dock abilities. The built-in charger provides up to five extra hours of power for iPad, while the simple slip-on case protects the tablet computer in a compact and easy to carry form factor for use in all environments. The PowerBack's kickstand adapts to individual user needs by offering three convenient viewing modes for iPad: portrait mode is best for photo viewing and web browsing, landscape mode makes video watching a joy, and typing mode makes texting and emailing via iPad easy and comfortable.

Eliminate the need for multiple chargers with the Kensington Wall Pack Duo Charger that simultaneously powers two iPad, iPhone, or iPod devices from a single wall outlet. Featuring a low profile design that is ideal for everyday use at home or in the office, the extra power source also includes a detachable USB sync cable to sync devices from a computer. Kensington's PowerBolt™ Duo Car Charger offers a quick charge on the road to both an iPad and iPhone, iPod, or other mobile device, and features two power ports to simultaneously renew energy for maximum efficiency.

"We recognize that the iPad is the next generation of personal and professional technology, creating a new demand for convenient power and protection for an everyday digital lifestyle," said Juan Rodriguez, Senior Global Product Manager, Kensington. "We strive to develop products that help deliver user efficiency and complement all environments in which mobile users spend their time, regardless of whether it's at home, on the road, or in the air."

At the June 2010 Worldwide Developer's Conference, Apple announced its extraordinary success in iPad sales with an estimate that there is one iPad sold every 3 seconds. Since then, the high demand for the product continues to grow from business users in particular. In fact, according to a recent report by BusinessWeek, the future enterprise device of choice for mobile workers will be an iPad. As today's workforce relies more on the tablet computer to complete business tasks and transactions, accessories that extend connectivity of the iPad will become essential to achieving productivity.