Ken Block Almost Died Filming Climbkhana at Pikes Peak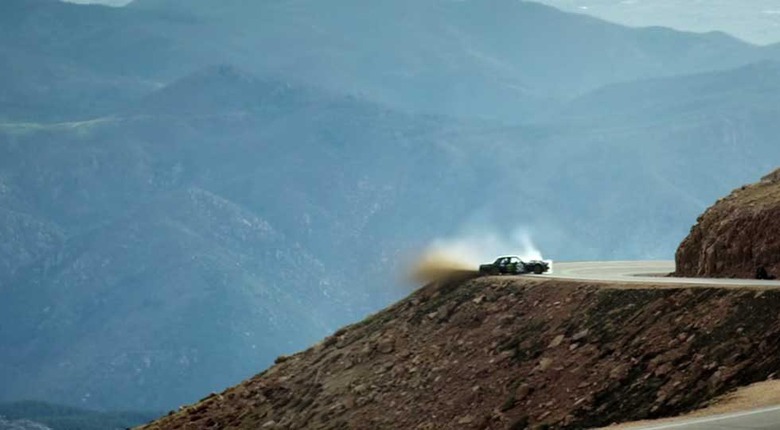 Ken block is crazy when it comes to filming his awesome Gymkhana series of videos. He jumps over all sorts of things and generally hoons all over whatever setting he is involved in. This time out we don't get a normal Gymkhana video, this one is called Climbkhana and it's called that because he is climbing America's Mountain.
Each year in Colorado Springs, Colorado The Pikes Peak International Hill climb is raced with insane people hurtling up a mountain to see how fast they can do it. Living in Colorado Springs, I have driven this mountain road many times and all I can say is there isn't a video out there that really portrays just how narrow and sphincter puckering this road is at the posted speed limit of around 25 mph or less.
Block is clearly breaking a speed limit in his 1965 Ford Mustang Hoonicorn. This time the trusty Hoonicorn has some mods made because at 14,000 feet humans get lightheaded and dizzy. In fact, there is full time paramedic staff at the summit of Pikes Peak solely to hand out oxygen to the lowlanders who try and make the trek up the mountain. This means your car is massively down on power as well. Block and his team strapped a couple large turbos to Hoonicorn and ran the car on methanol for this event.
At the halfway point of the climb when you see Block doing donuts around the helicopter and that little guard shack, that is where the park rangers do a brake check to be sure your brakes aren't getting too hot to stop you from plummeting off the mountain on your trek back down. They routinely make people park in the lot where the helicopter is to cool their brakes for safety.
I drove up the peak a day or so after this event and wondered who the a-hole was who was crazy enough to make all those donuts on the narrow road, now I know. Block is literally feet from death in much of this video, just watch and see. Too bad they didn't make a real full speed time run up the mountain, I'd like to know how Block and the Hoonicorn compare to the event racers.