KEF Blade Super High-End Speaker Unveiled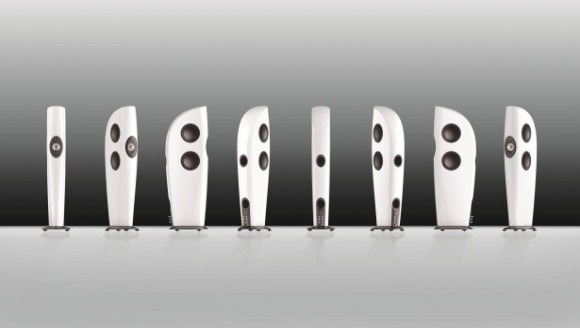 KEF is known for their cutting edge design and engineering when it comes to sound equipment. And today, they've brought to life one of their most acclaimed high-end speaker concepts called the KEF Blade. The revolutionary prototype was first revealed back in 2009, but since then the company has continued refining the design, getting it ready now in time to mark KEF's 50th anniversary.
The KEF Blade is touted as the first single-apparent source loudspeaker. KEF engineers aligned four sophisticated new bass drivers in a unique configuration such that their combined acoustic centers all occupied exactly the same point in space. This creates sound that appears to all be coming from a "single, flawlessly coherent source."
The focus on technical sound quality didn't waver when it came to the aesthetic qualities of the KEF Blade. The acoustic considerations dictated the design rather than just styling preferences. The slender and parabolic sculptural form is engineered to never interfere with the purity of the sound output.
The KEF Blade comes in standard Gloss White and Gloss Black, and is also available in a variety of custom colors. However, to enjoy this amazing visual and audio work of sound engineering art, you'd have to drop roughly $30,000 for a pair. And if you're willing and able, the KEF Blades will be ready for you to pick up this July/August.
[via Pocket-Lint]