Keep Your Business Cards on File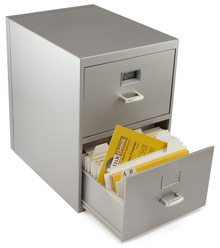 It has to be said, this is one of the cutest office luxuries I've seen in a long time. The creators must have had women pegged because it's hard for us to resist miniature anything. Which means if you guys aren't interested in it for yourselves, it would make a great gift. However, this business card filing cabinet has more than just an 'aww' factor, it's really quite handy. Even without flashy electronics or other gizmos it's going to be useful for anyone in the working world.
It can hold over 800 business cards, which otherwise are sure to be scattered, tattered or lost. It even comes with alphabet tabs so you can organize it to your liking. It's small enough to fit just about anywhere on your desk or even in a drawer.
The best part of this product is the price. You can get the Business Card Filing Cabinet for just $10. It's an incredible bargain compared to with the more hi-tech systems and that makes it a smarter alternative.
Filing Cabinet For your business cards [via Coolest Gadgets]