KDDi launching Android powered smart box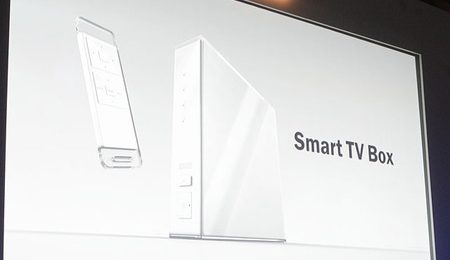 KDDi has announced that it will be releasing a "Smart Box" to sit under customer's televisions. The box, reminiscent of Nintendo's Wii, will run Android 4.0, Ice Cream Sandwich. KDDi say that the box will be trialled initially by a select group of customers, then rolled out on a wider basis later. Details of the box are few and far between right now, but it's expected to provide TV and movie content, and possibly apps considering the use of Android.
The company also announced that it would be launching some cloud services to enable customers to share content with one another across Android devices. The use of the Wii design is interesting: even the remote riffs off the Wiimote quite blatantly, so perhaps KDDi are hoping to leverage the familiarity of the console with its own service when it does launch.
The test customers will be receiving the box starting from this summer, but other details are scarce. It's unlikely we'll see the box launch outside of Japan, but then again manufacturers are hoping to skip additional set top boxes and build functionality right into televisions. Smart TVs were a big staple at this year's CES, with Samsung and LG making waves about content and apps available on their platforms.
Google is also hoping to try and gain more ground in the space, launching new Google TV boxes with partners this year. The original Google TV suffered from high prices and sluggish performance with the use of Intel's Atom chip. The new models are expected to be ARM-based for lower power consumption and hopefully improved performance.
[via Newlaunches]