JVC SX-SR3 iPod speaker dock debuts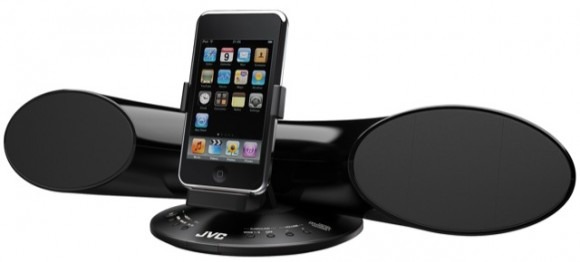 Logic3's i-Station Rotate got the swivelling iPod/iPhone system down pat, but it did so in a pretty slab-sided way.  Showing them the error of their ways is JVC, whose new SX-SR3 can hold an Apple PMP in either landscape or portrait orientation while flanking it with glossy black, curved speaker tubes.
The end result is one of the more distinctive iPod speaker docks we've seen in recent months, and JVC reckon it'll sound distinctive too.  They've turned to Dolby Virtual Surround audio processing technology, and while we're inherently suspicious of anything that promises to make pseudo-3D out of a stereo source, we won't argue with eking the best out of the mere 5W amplification.
Meanwhile there are both analog and digital audio inputs, and a remote control too.  The JVC SX-SR3 will go on sale this month, priced at $149.95.

Press Release:
NEW UNIQUELY-DESIGNED JVC iPOD® DOCK FEATURES DOLBY VIRTUAL SURROUND

New JVC XS-SR3 "personal theater" holds iPod's vertically or horizontally.

WAYNE, NJ, December 16, 2009 – A new JVC iPod® speaker system features a unique wraparound design, Dolby Virtual Surround, and a dock that like most docks holds an iPod vertically for music listening, but also can cradle it horizontally – ideal for widescreen viewing of video.

The new JVC XS-SR3 surround dock is a sleek, glossy black speaker tube with a curved design that allows the iPod to nestle between the speakers. The iPod holder rotates for viewing video in widescreen mode and comes with four clips to hold selected iPod models. The speakers' powerful neodymium magnets ensure clean, crisp sound, while Dolby Virtual Surround creates the illusion of a wider sound field when viewing video content. Power output is five watts and the system features two audio inputs, one analog and one digital optical. A remote control is included.

In addition to its function as an iPod speaker dock, the XS-SR3 can also be used as computer speaker system.

The JVC XS-SR3 is available this month for $149.95.