JVC offers video enthusiasts a new full HD Everio GZ-HM400 camcorder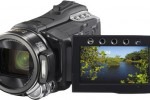 Camcorders are one of the devices that just about everyone has today. Parents use them to shoot miles of footage of their kids, mostly hoping to get something humiliating they can hold over their kids heads when they grow up. JVC has unveiled a new full HD camcorder for video fans called the GZ-HM400.
The camcorder is available now and stores video to SD/SDHC cards and has 32GB of internal storage as well. The CMOS sensor on the camera is a 10.3MP unit providing 1080p video resolution. The camera is also capable of recording at 600 frames per second for slow-motion playback of sports and other action.
The camera uses Konica Minolta HD Lens technology and a JVC developed optical image stabilization system. The camcorder also features Face Detection for up to 16 faces and one touch uploading to YouTube. The camera is available now for $999.95.