JVC NX-BD3 is all-in-one Blu-ray system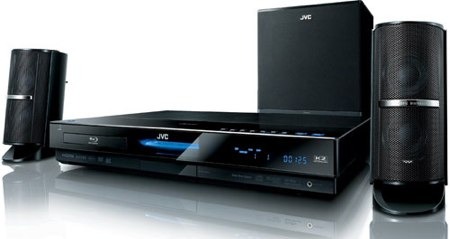 The Blu-ray format is struggling a bit to catch on in the mainstream and it will continue to do so until prices drop considerably. However, the emergence of several home-theatre-in-a-box systems as of late shows promise for things to come. And the JVC NX-BD3 is one such system that might help pull more consumers into the Blu-ray fray. 
This all-in-one system features 2.1 channels, DLNA support, a 200-Watt powered sub, a 4x55 Watt amplifier and more. Even so, it doesn't sport all of the latest technology. Notably absent are Profile 2.0, DTS-HD MA and Dolby TrueHD.
But for the $1,465 price tag, this Blu-ray system is a bit expensive for what it's offering. This JVC system will be available next month in Europe, but will not make it to the U.S. for some time. Perhaps that will give JVC enough time to adjust the price and features for the market.
[via Engadget]