JVC Micro Four Thirds camera brings its own support crew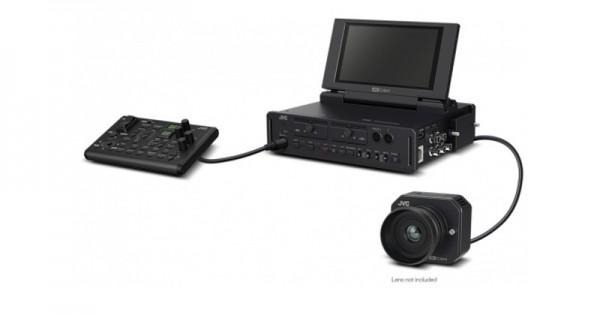 When one hears of cameras, especially digital ones, we usually think of a single slab or contraption that we can take along with us for a ride. The new JVC GW-SP100E 4KCAM, however, is anything but portable. Or rather it is, at least in some ways. Instead of a single camera body, this is actually a full system, composed of a remote camera head, its own separate recording and playback unit, and a remote control to, well, control it all from a safe distance.
So there are actually three parts in the single product that is named the GW-SP100E. Four if you consider the recording and playback unit as two separate entities joined. The remote camera head itself is able to capture 4K video, 3840x2160 max, at frame rates of 50 to 60 fps. It has a 35 mm 13.6 megapixel CMOS sensor and uses a micro four thirds mount. The camera can connect to the core machine via an optional cable, which come in 1 m, 5 m, and 10 m choices.
The recording/playback box is also quite interesting. It has dual codec setup, with four card slots, two for 4K and two for HD. This means that recording can proceed at the same time on two card slots, creating an instant backup of video recording. The setup supports both SDHC and SDXC cards. For playback, it uses a 7-inch Full HD tablet mounted on top.
Having the camera head separate from the body recording unit itself offers some benefits, especially when you thrown in the RCU. Aside from film and entertainment, it can be used for other purposes as well, like monitoring and research. The fact that the camera can be attached to a gimbal and therefore to a drone or aircraft means that its use can be taken to new heights. Literally.
Right now, however, there is no pricing or availability information yet for this rather odd but interesting 4K camera.
SOURCE: JVC
VIA: 43 Rumors