JVC HP-DX700 wooden headphone extends human hearing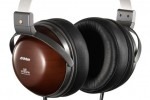 Not a DR. Dre "beats" fan? How about a nature sounding headphone cut out from a solid wooden cabinet, measured at 50mm in diameter, with ability to boast frequency responses extended beyond human hearing? If you have a deep pocket, you can get one from the Victor of JVC.
JVC has released its newest wooden housing finished headphone, HP-DX700, featuring one piece solid wood cabinet to form a cylindrical sound chamber equivalent to a fixed direct driver unit. The high quality sound output, according to JVC, can be further reduced in vibration and resonance departments with its solid wood enclosure; despite having a infrasound range extended as low as 5hz, and ultrasound range up to 30khz. The range of hearing for a healthy human being is 20 to 20khz.
The light weight headphone weights in a mere 380g, and comes standard with 24k gold-plated 3.5mm mini plug stereo jack. It is scheduled to release early January in Japan for 65,000 yen ($730).
Technical specs for JVC's HP-DX700

Dynamic Sealed
5hz-30khz frequency reponse
64Ω Impedence
101dB/1mW sound output pressure level
1.5w maximum input