JVC GZ-R450 and GZ-R320 camcorders survive water, drops, and shock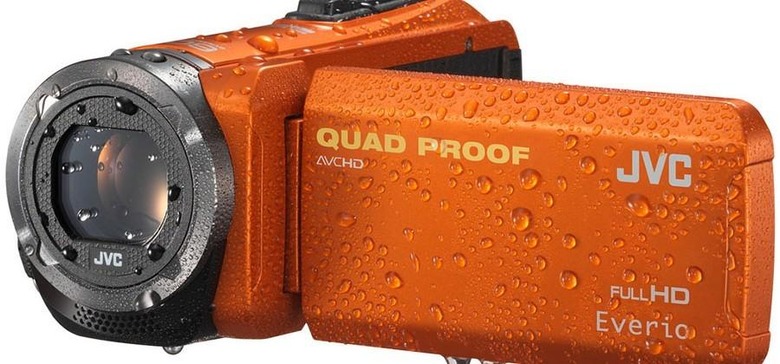 Taking a camcorder into the woods or to the beach can spell disaster. Normal camcorders will die a premature death if they get wet or if you drop them. JVC has rolled out a pair of new camcorders called the GZ-R450 and the GZ-R320. The two products share some of the same features including water resistance, drop resistance, and the ability to survive cold weather.
Both camcorders are waterproof to 16.4-feet and can survive being dropped from a height of 4.9-feet. They are also able to survive cold to 14-degrees and they are dust proof. Another cool feature is that both will float if dropped in water making them perfect for use when boating or rafting.
Both cameras have a traditional camcorder form factor and have 40x optical zoom. The difference between the two models is that the GZ-R450 supports 1080/60p AVCHD progressive recording. The sensor inside the camera is a 2.5M back-illuminated CMPS sensor and both use the FALCONBRID image-processing engine.
The R450 also features auto illumi. light and 32GB of internal storage. The R450 comes in black only with the R320 offered in black or orange. MSRP for the R450 is $499.95 with the R320 priced at $399.95.
SOURCE: JVC