JVC Everio X GZ-X900 shoots 1080p & 9MP images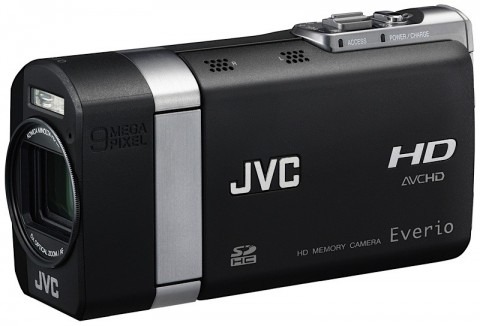 JVC have announced their latest full-HD camcorder, the JVC Everio GX-X900, which is capable of recording 1080p video and shooting 9-megapixel still images.  Measuring just 2.6 x 4.88 x 1.46 inches and weighing 0.66lbs, the Everio X can take 5-megapixel stills (at up to 1/4000 shutter speeds) while recording full-HD video, as well as offering 600fps slow-motion video recording.
The compact camcorder can also shoot fifteen 9-megapixel images per second, or 5.3-megapixel shots at 60fps, which ousts some DSLRs.  There's also a 5x optical zoom, "premium materials" used in the construction and a fold-flat LCD display. 
JVC also include software for one-click uploads to YouTube and basic scene editing.  The JVC Everio GZ-X900 will be available in June 2009, priced at $999.95.
Press Release:
New Nine-Megapixel JVC Everio X Hybrid Camera Simultaneously Shoots Full HD Video and Digital Stills

Small, light all-in-one camera also shoots slow-motion video and high-speed stills.

LAS VEGAS, March 3, 2009 – JVC today announced a new dual-use camera that shoots high definition video and high resolution digital still images. The new hybrid Everio GZ-X900, or Everio X, is a small, light, all-in-one camera that offers the powerful shooting combination of Full HD video and nine -megapixel still photos, plus creative shooting functions such as slow motion video and high speed "motor drive" still photography.

Highlights of the new JVC Everio X include:

The camera is small enough to slip into a shirt pocket and at just 0.66 pounds is one of the lightest cameras that can shoot 1920 x 1080 Full HD AVCHD video;

Shoots nine-megapixel (no interpolation) digital stills and Full HD video with 1000 TV lines of horizontal resolution – close to the theoretical maximum horizontal resolution for 1920 x 1080 high definition video for no-compromise images;

10x slow motion shooting plays back 2.4 seconds of recorded video over 24 seconds;

Up to six nine-megapixel stills can be shot at 15 images per second – faster than what digital SLRs can achieve;

Simultaneous five-megapixel digital still shooting while recording Full HD video – photos can be shot at shutter speeds as fast as 1/4000 second without interrupting video recording;

Records video and stills to SDHC memory cards.

The new Everio X was designed for the consumer who wants to shoot high quality digital stills and HD video, but wants the convenience of a single camera. While most conventional video camcorders shoot digital stills and most digital still cameras shoot video, the secondary capabilities of these cameras don't offer sufficient quality for many users. Everio X solves that dilemma by providing high quality stills and top quality HD video.

Unique Design

The design of Everio X is a distinct departure from other camcorders, including other Everio models. About the size of a chunky smart phone, Everio X is a slab-sided rectangle without the handgrip, protrusions or indentations found on most camcorders. The design allows plenty of flexibility in how the camera is held – from below, above, or whatever suits the situation and the user's preference. There are top-mounted zoom and record buttons, and a second set next to the LCD screen for additional shooting flexibility. The camera is black with silver accents, with the right side featuring a textured carbon fiber-like finish to provide a secure grip and resist smudges.

Small enough to easily slip into a pocket or purse, Everio X weighs just 0.66 pounds (including the internal battery and a memory card) and measures 2.6 inches tall, 4.88 inches long and just 1.46 inches wide.

1000 TV Lines of Full HD and Nine-Megapixel Stills

A 10.3-megapixel CMOS sensor is at the heart of the camera's superior image quality. The high quality nine-megapixel digital still photos the camera shoots correlate directly to the un-interpolated performance of this 1/2.33-inch CMOS sensor. For the first time ever, it is also the source of 1920 x 1080/60i Full HD AVCHD format video. The camera records at a stunning 1000 TV lines of horizontal resolution – close to the theoretical maximum of 1920 x 1080 Full HD.

JVC's new proprietary optical image stabilization (OIS) technology applies camera shake compensation optically at the Everio X lens entrance to ensure effectiveness throughout the zoom range and allow high quality shooting without a tripod. Everio X also uses a new KONICA MINOLTA HD LENS with a 5X optical zoom.

Further contributing to the camera's high image quality is JVC's HD Gigabrid Premium image processing engine. In addition, face detection technology assures accurate focus and exposure, and HDMI™ V.1.3 with x.v.Color™ provides increased color accuracy when connected to HDTV displays.

10x Slow Motion Shooting, High-Speed Motor Drive Stills

Slow motion video recording is a key Everio X feature. The camera's high-speed recording function shoots ultra-slow motion video. Any one of three speeds – 120 frames per second (fps), 300fps and 600fps – can be selected; the faster the recording speed, the slower the playback motion. With this function, approximately four-second bursts of video are recorded that are then played back over a period of up to 24 seconds, a maximum of 20 times longer than normal speed.

Recording speed Image size Recording time Playback time

600fps 640 x 72 pixels Approx. 2.4 sec. Approx. 24 sec. (10x)

300fps 480 x 116 pixels Approx. 4 sec. Approx. 20 sec. (5x)

120fps 480 x 270 pixels Approx. 8sec. Approx. 16 sec. (2x)

In the still mode, Everio X offers high-speed shooting, similar to the motor drive function found in some mechanical still cameras. As many as six nine-megapixel photos can be shot at up to 15 images per second, a speed that surpasses what's offered by typical nine-megapixel DSLR cameras. Everio X also allows shooting of 1920 x 1080/60i Full HD video and fully 5.3 megapixel stills at the same time — a unique advantage of this all-in-one camera. While recording video, photos can be shot at shutter speeds as fast as 1/4000 second without interrupting video recording.

5 Mega simultaneous still mode Shooting speed Maximum limit

High speed 60 images / sec. 11 images

Medium speed 11 images / sec. 11 images

Low speed 4 images / sec. No limit

Global Sharing

With the worldwide explosion of interest in video sharing, Everio X offers easy solutions for distribution. A One Touch Export function provided by bundled software for Windows® makes it easy to export videos into iTunes® for playback on an iPod® or iPhone®. And the One Touch Upload function, when used with the included software for Windows, simplifies uploading videos to YouTube™.

The DVD Creation function makes it easy to transfer video to a disc for archiving or sharing. Create a disc directly from the camera using the JVC Everio CU-VD50 burner/player or CU-VD3 burner SHARE STATION. Other direct storage solutions include third party external hard disk drives from LaCie and Seagate, and an external Blu-ray Disc Burner from LaCie.

The Everio GZ-X900 will be available in June at a nationally advertised value of $999.95.