JVC Everio GS-TD1 Full HD 3D camcorder on sale now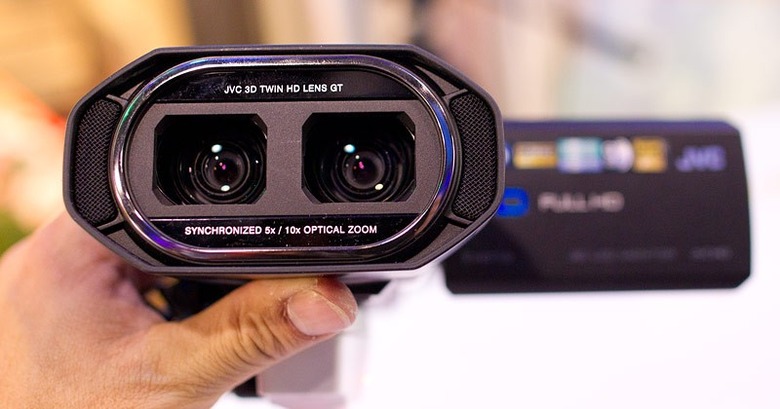 JVC's Everio GS-TD1 – the first Full HD 3D consumer camcorder – has finally gone on sale, having made its official debut back at CES 2011 in January. Priced at $1,699.95, the GS-TD1 pairs two 3.32 megapixel CMOS sensors with an F1.2 JVC 3D Twin HD GT lens and a 3.5-inch glasses-free 3D preview display, along with 64GB of integrated storage.
There's also an SDXC memory card slot. JVC offers three different recording modes: the new "LR Independent" format (MP4 MVC) for Full HD; "Side-by-Side" format (960 x 1080 X 2) for AVCHD 3D recording; and 2D AVCHD shooting for regular use. There's support for YouTube 3D as well.
An SDXC card slot, 3D optical 5x zoom, Optical Axis Automatic Stabilization System and Automatic Parallax Adjustment round out the main specs. As we discovered back at CES, the GS-TD1 packs an impressive amount of tech into a reasonably small package; find more in our hands-on report here.
Press Release:
JVC First To Offer Full HD 3D Consumer Camcorder
New GS-TD1 3D camcorder now available

WAYNE, NJ, March 7, 2011 -JVC today announced the availability of a new 3D consumer camcorder, the first on the consumer market that offers 3D video recording in Full High Definition. The new JVC GS-TD1 uses two camera lenses and two imaging sensors – one for each lens – to capture three-dimensional images in much same way that human eyes work.

3D video shot using the GS-TD1. What's more, the camcorder can shoot 3D video that can be burned to a Blu-ray disc or DVD-R for 3D playback on a compatible Blu-ray player.

"With more commercially-produced 3D content coming along this year, sales of 3D TVs are expected to be strong," observed Dave Owen, Vice President, Consumer Video, JVC U.S.A. "But what could be better than creating your own home videos in 3D? We think there will be plenty of 3D TV buyers eager to do just that. Furthermore, we think they'll appreciate that our new camcorder offers both Full HD 3D recording and several options for archiving and playing back their 3D footage."

The JVC GS-TD1 features a pair of 3.32 megapixel CMOS sensors and a new JVC-developed high-speed imaging engine that processes the two Full HD images – left and right images at 1920 x 1080i resolution. Three shooting modes are offered, a key feature that provides several options for HD resolution and archiving of 3D footage. These three shooting modes are: a new "LR Independent" format (MP4 MVC) that records in Full HD, the widely used "Side-by-Side" format (960 x 1080 X 2) for AVCHD 3D recording, and 2D AVCHD shooting.

The camcorder uses a F1.2 JVC 3D Twin HD GT Lens that sets a new standard in high-resolution lenses, with extra-low-dispersion glass for crisp, high-contrast images, as well as multiple aspherical lenses for fine image reproduction. The combination of the fast F1.2 lens and the back-illuminated CMOS sensors provides the GS-TD1 with outstanding low light performance. The GS-TD1 also features round iris diaphragms that enable beautiful bokeh effect (background blurring) shooting of video and stills alike.

Additional highlights include 64GB of built-in flash memory, SDXC card slot, 3D optical 5x zoom, Optical Axis Automatic Stabilization System for disparity control to give depth to 3D images, JVC's BIPHONIC technology for dynamic 3D sound and Automatic Parallax Adjustment to optimize the 3D-video comfort zone.

The GS-TD1 operates like other consumer JVC camcorders, with easy-to-use, intuitive controls. A 3.5" 3D touch panel LCD monitor displays 3D images without any need for 3D glasses, making it easy to check 3D images while shooting and watch 3D playback in the field.

The GS-TD1 comes with new Everio MediaBrowser 3D software (for Windows®) for full management, editing and sharing of content. In addition to full-fledged video and still image editing, files can be uploaded effortlessly to social media sites such as YouTube™ or Facebook, and the software allows 3D video to be shared on YouTube.

For archiving and playing back 3D recordings, there are several options depending on the shooting mode used.

· Full HD 3D video, shot using the MP4 MVC mode, can be archived to a computer hard drive or Blu-ray disc drive. This Full HD material can be played back in 3D by running the footage back through the camcorder.

· AVCHD 3D (Side-by-Side mode) video can be burned to a DVD-R disc and played back in 3D on any AVCHD-compatible Blu-ray player – including non-3D AVCHD-compatible Blu-ray players – when the disc was created with a PC or JVC Share Station.

The JVC GZ-TD1 Full HD 3D camcorder is available now for $1,699.95.