JVC Everio Camcorders get built-in WiFi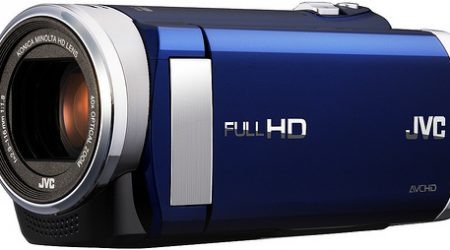 JVC has announced its 2012 lineup of Everio camcorders, which offers seven new models that span a wide range of needs from simple point-and-shoots to full manual controls. Four of the new models are now equipped with WiFi, which means that your videos and images can now be shared directly from your camcorder over a WiFi network. This combines the image and video quality of traditional camcorders with the convenience and ease of sharing that we get with smartphones.
The built-in WiFi allows you to share your images and videos in several ways and also adds other functionality. With a free app for your Android or iOS device, you can wirelessly transfer videos and still directly from your camcorder to your smartphone. This also lets the phone to be used as a remote control and have its GPS data used for geotagging. You can also email your images directly from the camcorder and there's a function called Video Email that lets you send 15-second video clips to up to eight email addresses.
The WiFi-enabled Everio also has additional capabilities like a Live Monitoring feature that lets you see in real-time on your smartphone or computer any images or videos taken with the camcorder. An Auto Photo Email feature automatically takes a still photo and emails it to you when it detects movement.
There are three main series in the lineup that breaks down into the E/EX series, the V/VX series, and the GX series. The E/EX models offer simple point-and-shoot functionality great for beginners. The V/VX models steps it up with a sleeker design and higher grade materials such as an aluminum panel LCD door and front panel. It also adds more features like Hi-Speed Recording, Super Slow, and Motor Drive for rapid-fire stills. The top of line Everio is the GX model that records in 1920x1080 Full HD at 60P and shoots 11-megapixel stills.