JVC DLA-Hd750 Projector gets White Christmas Release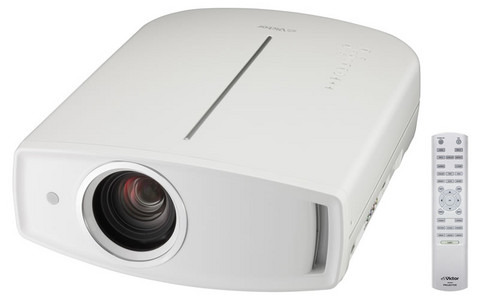 I never liked the idea of a white finish audio video device. Call me old fashion, but a matte or shiny Apple-white gadget looks strangely odd on my conventional all-black component shelf. It's not just the color mismatch, it reflects light greater than the conventional darker or gun-metal components in a dim home theater environment. What do I know? We've seen more audio video devices caught up with Apple-white fever; JVC is the latest manufacturer to join the bandwagon.
Like its sibling DLA-HD350, JVC dresses up the highest-end DLA-HD750 1080p full HD projector in white finish. The DLA-HD750-W Limited Edition has key features and specifications likes the original release of black version and will be limited to only 200 units with schedule to release in December 25th for 756,000 yen ($8,035)
Traditionally, video enthusiast prefers to paint its theater room with dark or plain black accent to avoid off-black color reflection onto the projector screen; thus a white projector in open area is an unconventional color choice. I've heard complaints on the Sanyo's PLV-Z2000 and the manufacturer has returned to conventional choices with newer release. Nevertheless, product with a limited release of 200 units will not dent the marketing budget regardless of the outcome.