Jurassic World full trailer released: watch this madness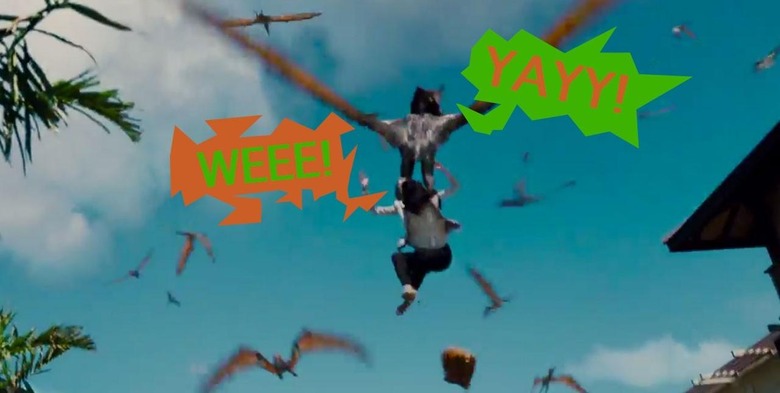 The next Jurassic Park movie – Jurassic World – is going to be truly nuts. More nuts than Jurassic Park III – and that was completely nuts. What you're about to see is the first full-length "global" trailer for the film with full-on plot details and more Star Lord – I mean "Owen Grady" than you can handle. Because Chris Pratt is still Chris Pratt, and his jokes are tendered to his fabulous down-to-earth ability to make you giggle. But the velociraptors used as hunting dogs – that's not a joke. That's for real.
Jurassic World is going to summon many of the bits and pieces you may have loved about Jurassic Park, turning them into a soup in which the newest version of the film will reside. It'll be tasty if you love to watch big beasts kill one another. It'll also be tasty if you like Prattian humor – which you must, and you do.
Sound effects from Jurassic Part will be used, and actors will be re-appearing. See if you can find everyone's favorite Jurassic Park scientist Henry Wu – he's back! And he's brought some legitimacy to this picture along with him!
This film will be released around the world on June 12th, 2015. At that time, we suggest you get your child to a babysitter and your popcorn out, because this is going to be another one of those "blockbuster" sorts of films, the kind you watch and say "whoa" about.
Head below for the rest of the trailers as presented piece by piece.