Judge Denies EMI's Request For Preliminary Injunction Against ReDigi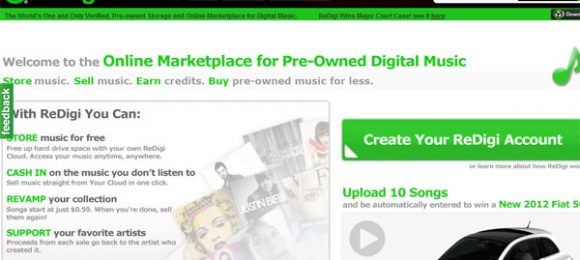 Record label EMI has taken a company called ReDigi to court for copyright infringement charges alleging that it makes unauthorized copies of songs for its music reselling business. ReDigi is a website where music fans can go and sell digital tracks that they no longer want. The way the service works is ReDigi combs through the customer's hard drive on their computer looking for music and then copies the music to its website and deletes the original tracks. The idea is that the music listed for resell is then no longer in possession of the original owner, much the same way selling a used CD works.
EMI was seeking a preliminary injunction against ReDigi that would force the music reseller to shut down pending the outcome of the court case. However, US District Judge Richard Sullivan said that he was going to let the case go to trial is allowing ReDigi to remain open. Sullivan noted that the case had many "fascinating" technological and legal questions involved. On the surface, what ReDigi does seems like the sale of any other use music format, but the record label alleges that ReDigi is making an illegal copy of the music.
ReDigi admits that it has no way to ensure the consumer selling used digital tracks hasn't copied those tracks elsewhere. I would say there's no way for your local used music store to ensure you haven't copied that CD to iTunes either. Every time, I see one of these cases I wonder when the double standard in the music industry will end. ReDigi claims digital music is protected under the same first sale doctrine that covers physical music formats such as records and CDs. EMI claims there are no first sale rights because the songs being sold are not legally obtained. What do you think about this?
[via CNET]