JPR PC gaming hardware forecast shows PC gaming is not dead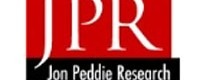 I am an ardent PC gamer. I like to play some games on consoles too, but my favorite genre is the FPS and those I only play on the PC. We hear from time to time that PC gaming is dead, but according to the latest figures from Jon Peddie Research that is not true at all. JPR is forecasting that PC gaming hardware will reach $27 billion in 2010.
Sales of PC gaming hardware in 2009 are expected to grow by a healthy $1.9 billion versus 2008 that is a growth of 5.9% despite the poor economy. One of the reasons that sales are expected to grow so much in 2010 is that gamers who have been holding off on upgrades are expected to buy.
The growth rate in 2010 compared to this year is expected to hit 30%. Sales of PC gaming hardware in 2008 were over $20 billion. Take that PC gaming haters, the market is doing well despite the poor economy while console sales are shrinking for some of the largest companies in the market.