Jordan Brand Xbox One X is very red and very hard to get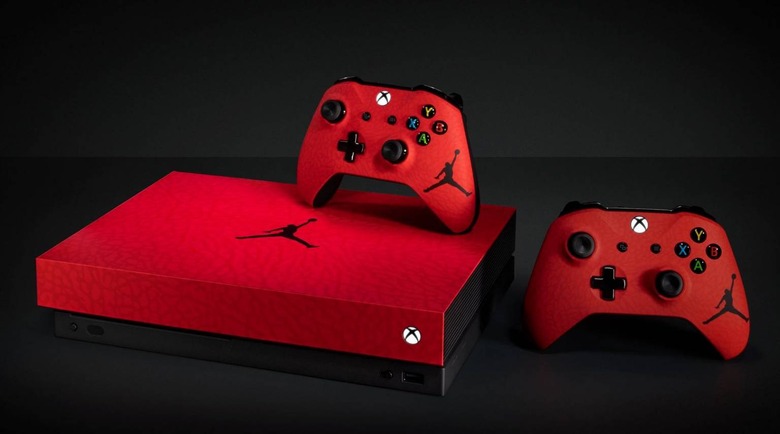 Microsoft loves its custom consoles, and today it revealed a big one. Microsoft took to Twitter to show off a new Jordan Brand Xbox One X that comes with a pair of matching controllers. Unfortunately for those who are fans of Air Jordan, Microsoft is only making one and you won't be able to buy it.
You will, however, be able to enter a giveaway and potentially win it. Microsoft launched the giveaway today and the rules are fairly simple: just retweet the tweet you see below, include #Xboxsweepstakes when you do, and you'll be all set. The sweepstakes runs until Thursday, February 27th at 7:00 PM Pacific, giving you just a hair over two weeks to enter.
RT for a chance to win a Limited Edition Jordan Brand Custom Xbox One X console.

NoPurchNec. Ends 2/27. Rules: https://t.co/UEucXRuVY0 pic.twitter.com/UzZVccfUhv

— Xbox (@Xbox) February 13, 2020
A look at the official rules for this sweepstakes tells us that Microsoft is only giving away one of these custom consoles, which doesn't come with a game but does come with those two matching controllers you see in the picture. The company is also limiting entries to one per person, and the winner will be notified by Twitter DM once they're chosen.
The fact that winners will be notified over DM reveals another requirement that isn't listed in the entry rules: you need to be following @Xbox in order for them to DM you in the event you win. So, simply retweeting isn't enough – you'll need to click that follow button if you want to be eligible to win one.
Aside from that, though, this seems to be a fairly straightforward giveaway. At the time of this writing, that tweet you see above already has 48,000 retweets and that number is growing fast, so expect a lot of competition for this console. The hashtag Microsoft wants you to include in your tweet is even trending on Twitter at the moment, so if you're going to try to win this console, good luck.