JooJoo tablet updates UI, fully-working Flash support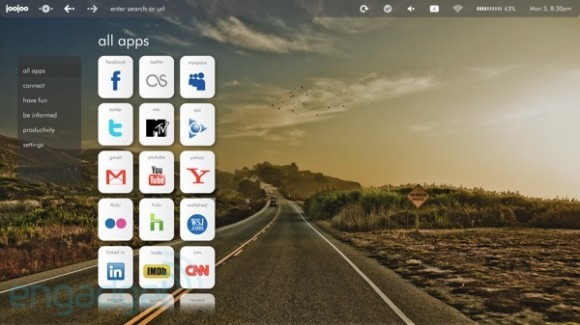 Fusion Garage may have delayed shipping its tablet for another entire month due to issues with its capacitive touchscreen, but the company has apparently made very good use of the extra time.  The JooJoo tablet has just been unveiled with a refreshed user interface, as well as fully-implemented Flash support that actually is "fully working".  Oh, and apparently the tablet has also undergone a physical color change, from a basic black to a "champagne-like" hue.
The startup has replaced the formerly-spartan interface with a much more modernized grid look that includes customizable wallpaper and a translucent bar that combines both status and a web address field. Engadget reports "Scroll behavior has been revised as well, with two separate behaviors: a two-finger scroll that works like a scroll wheel, and a single finger "pan" that works like a mouse arrow. That's so you can move around sites like Google Maps, which have different interface elements mapped to each control — CEO Chandra Rathakrishnan pointed out to us that devices like the iPhone avoid the issue by using dedicated apps, but Fusion Garage wants to deliver the "full web experience."  Interesting thinking here.
The text-input has also been revamped, with a smaller keyboard designed for one-hand usage that can be moved around the screen so it won't obscure content that might otherwise be blocked out, and a full-screen multitouch keyboard that does "chording so it recognizes more than one key at a time".  Flash now has reportedly become "fully-working" and viewing YouTube videos is supported either through Flash or a dedicated viewer that can play H.264 videos and other formats, and will also do supported range of codecs from a USB flash drive.  Apparently, if you really had wanted the black version, Fusion Garage will refund you back your $499 preorder.  Champagne or black JooJoo tablet, I for one won't be complaining, as long as it actually ships next month, fingers crossed.