Jolla Tablet goes for a second round with 64 GB in tow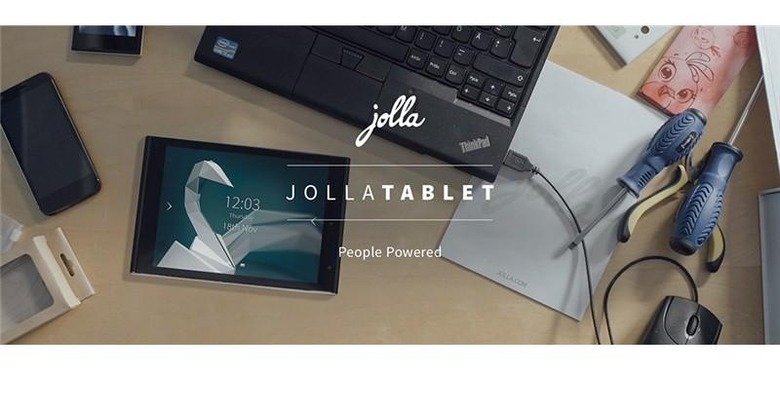 Some say "third time's a charm", but for the folks at Finnish startup Jolla, the second one might already be just as sweet. The Jolla Tablet is returning to Indiegogo again, but not exactly for a complete second crowdfunding campaign. It's more like an extension of the original highly successful one, but this time with another chance to pledge your allegiance if you haven't done so yet, and a chance to upgrade the internal memory from 32 to 64 GB. Of course, for a price.
The Jolla Tablet became quite the hit when it launched on Indiegogo last November. It started out humbly enough, only asking for $380,000 to build a tablet. In just two days1, they managed rake in almost $1.2 million. If you look at the specs, it's not hard to see what many fell in love with. A 1.8 GHz quad-core Intel Core processor, 2 GB of RAM, an 8-inch 2048x1536 display, And the promise of a better mobile platform via Jolla's Sailfish OS. That last one might have been a deal breaker for those unfamiliar with the OS, but the numbers speak for themselves.
For this round, Jolla is offering an upgrade to the original 2014 backers as well as options for new believers. A 64 GB model is being made available, for the price of a $25 upgrade. That is, if you already backed last time. If not, you'll of course have to pay the full price, which is $249 for the 64 GB model and $219 for the original 32 GB one. That's not the only thing that has changed, however. The battery has also been boosted, from the original 4,300 mAh now to 4,450 mAh. The screen is also now fully laminated. And they've also added a compass and a gyroscope, but sadly no proximity sensor.
If all goes according to schedule, Jolla plans to start shipping the Jolla Tablet in Q2 this year, but priority will be given to the first batch of backers last year.
On a slightly sad note, Jolla also warns users about some issues with the microSD card reader. The company has decided to go with an open source card reader solution and, while it will indeed be able to support 128 GB capacities, it will not be readable in Windows computers or devices that expect it to be formatted in exFAT or NTFS. This is due to Microsoft's licensing limitations for those filesystems.
SOURCE: Jolla